business
Your Evening Briefing
Here are today's top stories
Bloomberg News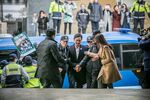 The evening briefing will soon be available in your inbox every afternoon. To be among the first to get it, sign up here.
Samsung's heir apparent, Jay Y. Lee, is locked up in prison with a cannibalistic serial killer for a neighbor and no access to a smartphone or computer. But that doesn't mean he's given up being the boss. The businessman may technically be confined to his cell for most of the day, but he can meet with lawyers in a separate room for as long as he wishes, giving him the perfect opportunity to pass on instructions to trusted lieutenants. And while he's free to watch TV when back in his cell, it may leave a sour taste - his prison set is made by rival firm LG. —Kristine Servando
That's a long way to go for a short. Traders are going well out of their way to target players in Australia's $1.3 trillion stock market - one even flew 10,000 miles in the hunt for a target. The country's attracting so many bears that average short-selling levels are already double those seen in Hong Kong.
The worst isn't over for Singapore's property market, according to billionaire developer Kwek Leng Beng. After three years of price drops, Kwek believes it may be up to nine months before residential prices start showing signs of recovery. If you're in the market, now might be the time to shop for a luxury home, he says, as prices have fallen some 35 percent since 2013.
Keeping track of Trump. From scrapping an Obama-era bathroom policy for transgender students, to how the president managed to stump Air Force chiefs, it can be exhausting keeping up with all things presidential. Here's the easiest way - take a look at Bloomberg's interactive Trump tracker, a daily roundup of all the biggest stories coming out of the White House.
A booze battle is raging, but it's not stopping Johnnie Walker. India's launch of a fresh raft of restrictions on alcohol across the country isn't stopping drinks giant Diageo from eyeing opportunities in the world's biggest whiskey market. The company may now be poised to acquire a bigger slice of India's top distiller, buoyed by the fact that by 2018 another 150 million Indians will reach legal drinking age.
First Brexit, then... Frexit? Marine Le Pen wants you to believe she's just like British leader Theresa May. "She's running the U.K. using policies that I want to run," Le Pen said. Her flattery might not sit well with free-trade advocate May, whose government says it does not engage with Le Pen's anti-immigrant party.
Your luxury lipstick could be fake. For $30 billion cosmetics giant Estée Lauder, this means war - and they've got their own army to fight it. The company's global security team is led by the former head of the U.S. Drug Enforcement Agency's New York office, and it has 42 full-time agents around the world to chase counterfeiters, who sell their fake goods in flea markets and over the internet.
Jet-set like a germaphobe. Always disinfect your hotel room, and make sure you listen to the locals, advises Jeff Klein, owner of LA's Sunset Tower Hotel, favored by the Hollywood A-list. Klein hits the road just about every other weekend, researching what does and doesn't work in the hospitality industry. Here's his travel advice.
Before it's here, it's on the Bloomberg Terminal.
LEARN MORE