business
Wilders Told He's Safe to Campaign After Dutch Security Concern
By
Dutch minister says it's safe for Wilders to campaign

Freedom Party chief leads polls ahead of March 15 ballot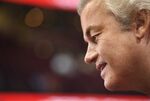 The Dutch government said politician Geert Wilders is safe to campaign for the March 15 general election, just a day after the anti-Islam leader of the Freedom Party canceled all his public events due to security concerns.
Wilders, who has lived for more than a decade under constant government security and stays in safe houses following death threats, said on Twitter Thursday that he would suspend all public activities "until all facts are known'' about possible corruption within the team protecting him. Wilders is leading most polls with less than three weeks before the ballot.
"I understand very well that Wilders has done his job for a long time now under difficult circumstance, and I respect his decision, but Wilders and other politicians can do their jobs safely," Security and Justice Minister Stef Blok told reporters at the Hague on Friday.
A police officer who worked in the unit responsible for protecting Wilders was arrested on Monday on the suspicion of "sharing classified information in the private sphere," according to the Dutch police. The suspect was released on Thursday, the country's press agency ANP reported, citing a delegated judge. Dutch daily NRC reported earlier this week that the officer had leaked confidential information to a Dutch-Moroccan criminal organization.
To read an explanation of the Dutch elections, click here.
"As far as we know now, the security of Wilders was never in any danger,'' National Police Chief Erik Akerboom said Wednesday in an interview with BNR Nieuwsradio. Akerboom said the police officer was not one of Wilders's security guards but had access to important information because he scanned locations prior to visits of the politician.
Even though Wilders's Freedom Party is expected to gain the most seats in the ballot, most mainstream parties, including Prime Minister Mark Rutte's Liberals, have ruled out governing with the right-wing populist, meaning Wilders has little chance of being able to form a ruling coalition.

— With assistance by Corina Ruhe
Before it's here, it's on the Bloomberg Terminal.
LEARN MORE