markets
RBA's Lowe Sees `Period of Stability' in Rates Amid Big Debt
By
Governor testifies before parliamentary committee in Sydney

Market pricing for rates on hold in 2017 'seems reasonable'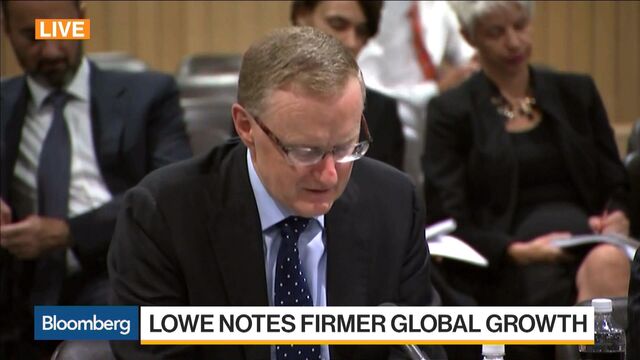 Australian central bank Governor Philip Lowe said he expects "a period of stability" in interest rates and suggested further cuts could push already high household debt to "dangerous" levels.
"The issue we're discussing, internally, is how much extra fragility would that mean in the economy with household debt already at a record high," Lowe said in testimony to a parliamentary panel Friday in Sydney. "Is it really in the national interest to get a little bit more employment growth in the short run at the expense of creating vulnerabilities which would become quite dangerous in the medium term?"
Lowe has kept rates unchanged at a record-low 1.5 percent since taking the helm in September, resisting calls for further easing in response to weak inflation. He's concerned further cuts will send already stratospheric Sydney house prices even higher and encourage riskier lending and borrowing to finance purchases and threaten financial stability.
Discussing considerations for policy, Lowe said further easing in the current environment "would mainly work to get people to borrow more. And when they borrow more that will probably push up house prices even more, because they'll mainly be borrowing for the purposes of housing, not to fund more consumption."
Stronger Growth
The Reserve Bank of Australia predicts the economy will accelerate to an above-trend 3 percent this year spurred by resource exports and a diminishing drag on growth from falling mining investment. The problem is iron ore and natural gas shipments require limited labor, meaning the jobless rate is likely to remain close to its current levels and underemployment high.
Unemployment is "a bit high, it's not terribly high," and inflation is "a bit low," Lowe said, setting out the challenges policy makers face. Unemployment has ranged between 5.6 percent and 6 percent in the past year.
"So an argument could be made -- people argue this, including people on my own staff argue this -- well we could have lower interest rates today to try and encourage a bit stronger growth in employment. Get the unemployment rate down a bit and get inflation up a bit quicker," he said. "So that's a respectable line of argument."

Earlier, in his opening statement, Lowe discussed the different phases of activity in the property market.
"The picture remains quite complicated," the RBA chief said. "In parts of the country that have been adjusting to the downswing in mining investment or where there have been big increases in supply of apartments, housing prices have declined. In other parts, where the economy has been stronger and the supply-side has had trouble keeping up with strong population growth, housing prices are still rising quickly."
Low Inflation
Australia is still grappling with weak wage growth, low inflation and excess capacity in the labor market. While there are signs of global reflation as commodity prices gain, the return of consumer-price growth to the RBA's 2 percent to 3 percent target is forecast to take some time.
"We do not expect the rate of inflation to fall further," Lowe said. "Our judgment is that there are reasonable prospects for inflation to rise towards the middle of the target over time. The recent improvement in the global economy provides some extra assurance on this front."
Questioned on the exchange rate, the governor reiterated it was hard to say the Aussie is fundamentally overvalued, while adding he would prefer to see it lower rather than higher. The currency has risen almost 7 percent this year in response to higher commodity prices. It fell 0.2 percent to 77.04 U.S. cents at 1:31 p.m. in Sydney.
Lowe reiterated that the RBA sees the current setting of the cash rate consistent with achieving sustainable growth and getting inflation inside its target.
'Reasonable'
"At the moment, the market pricing is for interest rates to be constant right through this year," Lowe said. "That seems a reasonable proposition to me, although there are clearly scenarios where they'd go up and there are scenarios where they'd go down."
"I think it would be good if people focused on other things rather than quarter percent movements in interest rates," he said.
Just to reinforce the point, shortly before the end of proceedings the RBA chief was asked whether he'd be more likely to lower rates if debt and house prices weren't so high. The governor said "at the margin" it would strengthen that argument.
"The issue though would be how effective lower interest rates at this point would be in stimulating demand and employment," he said. "I think there are probably more effective ways of doing that."
He then batted the issue back to his questioners. 
"It's really in the hands of the parliament to create an environment where firms want to invest and people want to spend," Lowe said. "Monetary policy at the margin can help you, but we're talking very much at the margin."
(
Updates with Lowe on monetary policy's limitations in final paragraphs.
)
Before it's here, it's on the Bloomberg Terminal.
LEARN MORE