Puerto Rico Governor Says Years Needed to Fix Island Budget
By and
Rossello says swift, deep spending cuts will worsen crisis

Even with steps, island can pay a fraction of debts, he says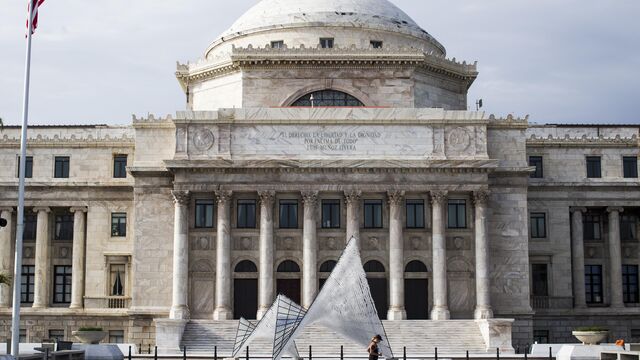 Puerto Rico Governor Ricardo Rossello said the government needs as long as five years to close a more than $7 billion budget shortfall, saying the deep spending cuts envisioned by the island's federal overseers would deal a devastating blow to an already sputtering economy.
Rossello's comments, made in an interview in Washington, signal a potential rift with the U.S. oversight board that was given broad power over Puerto Rico's finances after it defaulted on a growing share of its $70 billion of debt. With his administration preparing to submit fiscal plans to the board next week, he estimated it will take three to five years to erase the government's chronic deficits, compared with the two-year time frame initially proposed by the board.
"You could do it in two years, but the net effect would be a devastating blow on the economy, social unrest and a devastating blow, quite frankly, on revenues," he said. "We're saying, let's get some runway so the public policy we've designed can get executed."
The long timeline underscores the need for Puerto Rico to renegotiate debt left from years of borrowing to pay bills as it remained mired in a recession. Even with steps to address the deficit, he said the island will only have $800 million to $1.3 billion a year available to cover debts -- less than half the more than $3 billion it will owe annually over the next decade.

Rossello said the island's negotiations with bondholders won't get underway in earnest until the board backs his fiscal blueprint, which may happen by the middle of next month. If it's approved, the governor said he'll move aggressively to secure a voluntary agreement with creditors to cut what it owes. A temporary stay that has sheltered the island from bondholder lawsuits is set to lapse in May.
"My hope is that we can renegotiate in good terms," he said. "I'm hopeful that once we have that fiscal plan in place we'll have a better understanding of how far we need to go."
Since taking office last month, Rossello has also sought to revisit the debt-restructuring deal that the Puerto Rico Electric Power Authority, the government utility, struck more than a year ago. He declined to comment on what further concessions the island may be seeking.
"Bondholders, I feel, recognize that there is space to renegotiate," he said. "There is willingness on the stakeholders side to revisit some of the pillars -- and we're excited about the possibility that we can reach an agreement."
Puerto Rico's debt crisis erupted nearly two years ago, when then-Governor Alejandro Garcia Padilla said the government's debts were too vast to repay. He went on default on a wide swath of bonds to avoid drastic spending cuts he said would fall heavily on an island where nearly half live in poverty.
The U.S. government stepped in last year, enacting legislation that established the federal board and gave the island bankruptcy-like authority to have debt discharged in court, enhancing its bargaining power with creditors. The board in January suggested that the island could eliminate the budget shortfall by fiscal 2019 -- excluding debt payments -- by raising taxes by $1.5 billion and cutting $4.5 billion in spending.
Rossello said the board's suggested $1 billion cut to health-care spending would have a devastating impact, and he wants to implement a progressive pension-tax plan that would spare low-income retirees.
He said the island will need time to stabilize its economy before it can sufficiently deal with the fiscal strains.
"Otherwise what we're doing is shoving people out of the island in a massive exodus that won't fix the fiscal problem, that will certainly be a deterrent to economic growth and will -- of course -- be a source of social collapse," he said.