OPEC Needs to Prolong Cuts After Swelling Surplus, Citi Says
By
Producers added to glut while they negotiated deal, says Morse

Committee said to see OPEC compliance at 94%, non-OPEC at 66%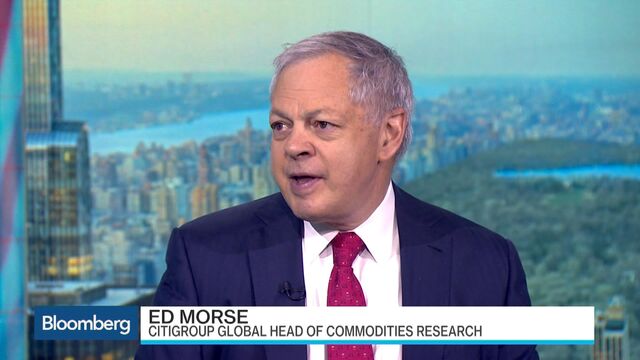 OPEC and its partners probably need to prolong production cuts simply to counteract the glut they created just prior to the deal, according to Citigroup Inc.
The Organization of Petroleum Exporting Countries and allies including Russia don't need to cut output much further to rebalance world markets, Citigroup's Ed Morse said. However, they'll likely need to keep output low once the accord expires in June in order to clear supplies added while negotiating the deal last year, he said. Producers will decide in May whether to prolong their agreement.
"The OPEC cut ironically added a million barrels a day of oil to the market" because producers ramped up before the deal took effect, Morse said in a Bloomberg television interview with Francine Lacqua and Tom Keene. "One of the ironic aspects of that two-month period when they all over-produced is that" it means the supply deal "probably needs to be extended."

OPEC and 11 nations including Russia agreed last year to cut about 1.8 million barrels a day of production for six months in a bid to end a three-year surplus that depressed prices and battered their economies. A committee of technical experts from five of those countries concluded Wednesday that OPEC implemented 94 percent of its promised cuts and non-OPEC nations achieved 66 percent, according to two delegates familiar with the matter who asked not to be identified.
Citigroup's view is in line with that of Total SA Chief Executive Officer Patrick Pouyanne and London-based consultant Energy Aspects Ltd., both of whom said the glut can't be cleared without an extension.
"The rebalancing appears far off still, and many are starting to question OPEC's impact on balances," Energy Aspects said in an e-mailed report Thursday.
The organization can avoid prolonging the accord if all members abide by it, Iraqi Oil Minister Jabbar al-Luaibi said in an interview with Sabah newspaper. Still, Iraq has lagged behind other nations, completing about 166,000 barrels of the 210,000-barrel reduction it promised, according to al-Luaibi.
OPEC will face long-term problems from the resurgence of U.S. shale oil and the policies of President Donald Trump to stimulate its growth, Morse said. With U.S. output poised to climb, expectations among forecasting institutions for a "supply gap" by the end of the decade may need to be postponed "forever," he said.
Before it's here, it's on the Bloomberg Terminal.
LEARN MORE