Merkel Rival Schulz Risks Winning Europe and Losing Germany
By and
SPD leader Martin Schulz's stance on debt not shared by public

'A convinced European,' he will defend his positions: Brzeski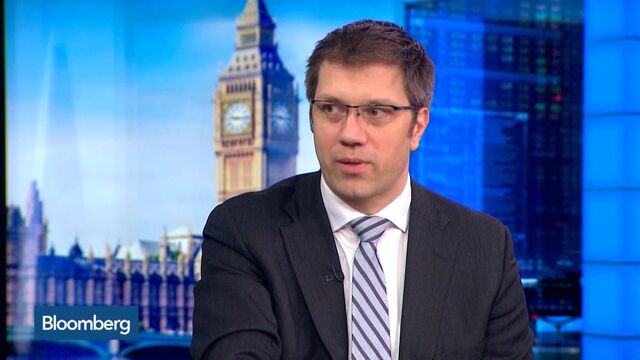 Martin Schulz's two decades in Brussels and Strasbourg gave him a reputation as a straight-talking champion of Europe who favored doing more to support struggling euro-area countries. Back home, that's a hard sell.
Schulz, the former president of the European Parliament, has hauled his Social Democratic Party into contention since saying he'll run against Chancellor Angela Merkel in Germany's Sept. 24 election, yet without articulating much detail of his campaign themes.
The new SPD leader's dilemma is that while his record in favor of shared euro-area debt and easing up on Greece is a clear break from Merkel's stance, polls suggest it clashes with the broader public mood in Germany. On the issue of greatest concern to voters and where the chancellor is vulnerable -- the refugee crisis -- his position is aligned with her's.
As his party works on a platform, the upshot is that Schulz may have to tread gingerly on some of the policies he's most passionate about if he's to have any chance of winning.
There will be "no revolution," said Holger Schmieding, chief economist at Berenberg Bank. "To avoid a popular backlash, even Schulz would have to limit the risks Germany may incur."
It's an opening that Merkel allies are already trying to exploit. Peter Altmaier, her chief of staff, told Bild newspaper he's "just as pro-European as Martin Schulz," but has always viewed shared euro debt as "wrong." Merkel told reporters on Thursday she still says "no to euro bonds."
Public Backing
A European Union survey in November found that Germany has the least public backing for so-called euro bonds among EU countries, with just 24 percent saying they were in favor. That compared with 55 percent support in Portugal and 50 percent in Greece. While Merkel and Schulz both insist that Greece must be kept in the euro, 52 percent of Germans said they wouldn't care if it left, according to a Forsa survey published Wednesday.

Schulz, 61, has also pressed EU governments to introduce a European deposit-insurance system. It's the sort of solidarity that German Finance Minister Wolfgang Schaeuble, Merkel's trusted lieutenant for euro matters, has resisted as putting taxpayers at excessive risk -- helping to make him one of Germany's most popular politicians.
Schulz's arrival back in Germany to assume the helm of his party, the junior partner in Merkel's coalition, has energized the race. Polls that showed the SPD trailing Merkel's Christian Democratic Union-led bloc by as many as 18 percentage points over the past year now show it with between 29-33 percent support to 31.5-34 percent for her CDU/CSU.
German Policeman
A Schulz ascendancy to the chancellery would help dispel concern about a breakup of the euro, Erik Nielsen, chief economist at UniCredit SpA in London, said in an interview.
"The first thing you would see is a narrowing of spreads," he said. "The risk that Germany would be the policeman -- as they've done in periods of times of fiscal austerity -- is going to be less," signaling "an implicit stronger underwriting" of the currency union.
And yet getting there is the hardest part.
Schulz may represent a more inclusive German approach toward Europe than a Merkel government, but "little is known about his vision on domestic affairs," UBS economists Ricardo Garcia and Christoph Buxtorf said in a note on Jan. 25.
Popularity Driver
Fleshing that program out beyond social justice and solidarity, "will be an important driver of his popularity," they said. "We therefore caution against reading too much into current polls until more clarity emerges on Schulz's detailed positions."
Carsten Brzeski, chief economist at ING-Diba AG in Frankfurt sees Schulz's European convictions as an electoral strength, even if some of his positions are unlikely to win over voters.
On the domestic front, 48 percent said the SPD was the party most likely to deliver social justice, an FG Wahlen poll for ZDF television's Politbarometer this month showed. Just 24 percent said it had most economic competence, compared with 35 percent for Merkel's bloc.
"Laying out political positions is a risk for Schulz," Manfred Guellner, head of Berlin-based polling company Forsa, said in an interview. "Making social justice your central campaign theme isn't enough to win an election."
Schulz in his own words:
On euro-area bonds
Schulz told Der Spiegel magazine in 2014 that he favors jointly-issued bonds by euro countries, while conceding "that there will be no majorities for that in the foreseeable future."
Pooling Debt
In March 2013, Schulz welcomed a proposal to bundle euro members' government debt exceeding 60 percent of gross domestic product into a mutually guaranteed redemption fund. It would "relieve the crisis countries of some of their interest burden," he told Handelsblatt.
European Deposit Insurance
Schulz called on Merkel's government in November 2015 to stop delaying the introduction of a European deposit-insurance system, which Germany's banks reject. Schulz argued that the scheme is needed quickly "to break the vicious circle between bank and state debts."
Greece
Schulz has supported giving Greece more time to meet bailout terms. While he hasn't advocated forgiving Greek debt, a decision that's mostly in the hands of euro-area governments, he welcomed talks on debt relief that were held for the first time in 2016.
Russia Sanctions
Schulz, like Merkel, opposes easing economic sanctions against Russia until President Vladimir Putin fully complies with a 2015 peace accord for eastern Ukraine. That contrasts with other senior Social Democrats, who have suggested lifting sanctions step-by-step in response to Russian concessions.
Austerity vs Investment
Schulz has backed EU stimulus programs and opposed sovereign-rescue plans that tilt toward deficit reduction over promoting growth, arguing that bailouts hit a wall when voters rebel against austerity. Like Greece, France and other euro countries that have missed deficit reduction goals should be granted more time, he's said. In his parting short as European Parliament head, he criticized German-led austerity in the euro area, saying it isn't a cure-all for weak economies and ignores "people's desperation."
Manager Pay
In his nomination speech in January, he took aim at managers who "rake in millions in bonuses" while checkout cashiers, he said, are fired for minor lapses.
Refugees
Schulz is perhaps even more liberal on refugees than Merkel, whose open-borders policy has eroded her popularity and fueled the rise of the anti-immigration Alternative for Germany party. "It's good that Germany fulfilled its humanitarian obligation during the refugee crisis," Schulz said in an interview with Der Spiegel magazine this month.
Trump
He wants Merkel to call out U.S. President Donald Trump for "launching a wrecking ball at our values" and respond with "a real strengthening of the EU," according to Der Spiegel.
Before it's here, it's on the Bloomberg Terminal.
LEARN MORE