French Socialist Clings to Hope of Pact to Help Election Chances
By
French candidates say willing to talk but neither hopeful

Interview shows up serious disagreements on EU and Russia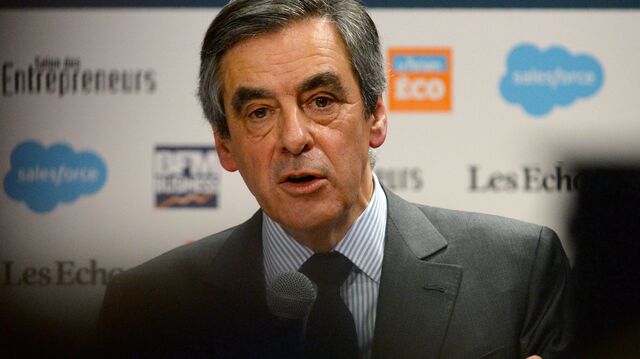 Socialist candidate Benoit Hamon is trying to keep alive prospects for a left-wing alliance that would potentially transform his run for president and upend the 2017 election race.
Hamon, 49, said he's still aiming to discuss a common candidacy with his far-left rival Jean-Luc Melenchon in an interview on France 2 television Friday, though he insisted that it should be Melenchon backing his bid for president. Melenchon insisted that he should be the one to lead any common platform, indicating the scale of the obstacles they face.
"I am willing to talk," Melenchon told the channel Thursday evening. "But I also can't betray my supporters. There are people around me who hate the Socialist Party."
Ifop's daily tracking poll on Thursday gave Hamon 13.5 percent of the vote and Melenchon 11 percent, meaning both are set to be eliminated in the first round of voting on April 23. If they could combine those votes behind one candidate, they would, in theory at least, eclipse second-place Emmanuel Macron's 22.5 percent and become favorite to win the election.
Nationalist Marine Le Pen is tipped to win the first round with 26 percent, but then lose heavily in the run-off on May 7, whoever she faces.
For a dashboard to track European political risk, click here
Bruno Cautres, a political scientist at the Sciences Po institute, said a single candidacy is unlikely for the left because of personal animosity and major policy differences.
"Melenchon is trying to show that he's not the one who is preventing the left from being in the second round," Cautres said. "So he's showing a willingness to talk to Hamon while stressing the positions where they disagree, such as Europe, that are incompatible with a common candidacy."
Read more: 'Don't Be Misled by Polling for French Election' in QuickTake Q&A
With the left divided, Ifop's poll showed that Republican Francois Fillon is Macron's main rival for the second slot in May's run-off, two percentage points behind on 20.5 percent.
Melenchon, 65, said his Socialist rival hasn't responded to a letter that he'd sent setting out conditions for an alliance. "It is not me who has closed the door," Melenchon said.
Former Socialist
In a two-hour interview Thursday evening with a panel of journalists and members of the public, Melenchon said he'd renegotiate European Union treaties to give France more control over its economy and end the independence of the European Central Bank, and then submit the new treaties to referendum. Hamon advocates closer integration of EU members.
Melenchon also called for a closer "partnership" with Russia, while Hamon has been critical of Russian human rights practices and its intervention in Syria.
Asked if he'd ever step aside for Hamon, Melenchon answered, "Why shouldn't he step aside for me? I'm 65. I'm not starting my career. I'm here to see my ideas win."
In a much shorter interview Friday, Hamon said he had to be the candidate. "I respect Jean-Luc Melenchon, but it's my conviction that in the efforts to unify the left, my position is central and that allows me to embody the left," he said.
Melenchon was a member of the Socialist Part for more than 20 years and was education minister in a Socialist government before quitting the party in 2008 over policies he said were overly business friendly.
Hamon did reach an accord Thursday for ecologist candidate Yannick Jadot to step aside and endorse him. Jadot had been credited with about 2 percent in the polls.
In a statement, Hamon said he hoped "other currents of the left will continue to assemble around our candidacy."
— With assistance by Helene Fouquet
Before it's here, it's on the Bloomberg Terminal.
LEARN MORE