Macron's French Election Coup Irritates Rivals on Both Sides
Mark Deen and Gregory Viscusi
Independent Macron bolstered campaign through pact with ally

Fillon camp says Macron and Bayrou are secret socialists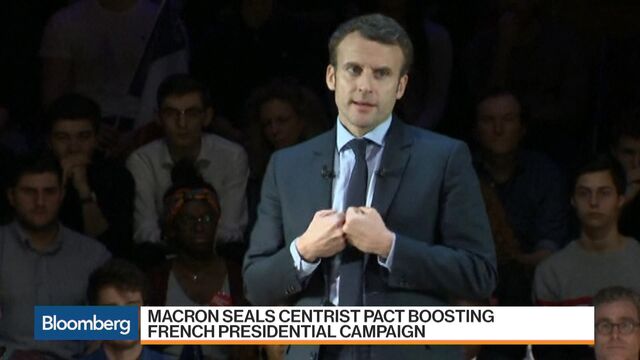 Emmanuel Macron's success in snagging two significant endorsements in a week is drawing flak from his rivals for the French presidency, who see the independent candidate recovering his momentum.
With exactly two months to go until the first round of voting in a topsy-turvy race, the 39-year-old won the backing of centrist Francois Bayrou Wednesday and days earlier the former green party member Francois de Rugy, who was defeated in the Socialist Party's primary. Bayrou has the support of about 5 percent of voters, a significant prize for Macron who is neck-and-neck with Republican Francois Fillon in the battle for the second slot in the May 7 run-off.

Francois Baroin, a former finance minister who's helping Fillon, dismissed the significance of the centrists' alliance on Thursday, comparing it to Bayrou's decision to support President Francois Hollande in 2012 instead of Nicolas Sarkozy, traditionally a closer ally. Macron worked for Hollande, first as economic adviser and then as minister between Aug. 2014 and Aug. 2016.
"Bayrou has been a clandestine socialist for 20 years now," Baroin said on Europe 1 radio. "This is effectively the second time he'll be voting for Francois Hollande. This time he's paying for his place officially."
Macron quit the Hollande government last year to mount an independent bid for president and overturned expectations to become the marginal front-runner for the French election. He suffered his first major hiccup last week when he managed to ruffle both the conservatives proud of France's colonial past and the gay community, fueling concerns that the nationalist Marine Le Pen might emerge from the melee with a mandate to take the country out of the euro.
For a dashboard on European political risk, click here
"I am happy Bayrou can join our work," Macron told reporters late Wednesday. "This is a turning point in the campaign and in French politics."

French bonds rose after Macron sealed the pact with Bayrou, with the spread between French 10-year bonds and similar-maturity German bunds tightening from its widest in more than four years. The risk premium fell 4 Client 3 basis points to 72 at 4:06 p.m. in Paris after dropping by 5 basis points on Wednesday.
Bayrou, the 65-year-old mayor of the southern town of Pau and leader of the Modem movement, was a contender in the 2007 presidential election when he won 18.6 percent of the vote in the first round, narrowly missing out on making the run-off. His share of the vote slipped to 9.1 percent in 2012 and recent polls have have shown he'd have won around 5 percent had he run this time.
While a Bayrou candidacy would have taken votes away from Macron, his decision to back Macron doesn't change things that much, said Sudhir Hazareesingh, a history lecturer at Balliol College, Oxford. "Macron has already cannibalized most of his support and many of his middle-level organizers are from Modem," he said "So Bayrou had no option really: the game was up."
Bayrou's Choice
Macron and Bayrou are meeting Thursday afternoon and will make a statement at 6 p.m.
"We are in such a risky situation and for this situation we need an exceptional answer," Bayrou said Wednesday. "Maybe for me it's a sacrifice, but sometimes you must make a gesture that reflects the gravity of the situation."
The Socialist candidate Benoit Hamon issued a statement complaining that he had already taken the lead on the public ethics initiatives that Bayrou has agreed with Macron and questioning Macron's commitment to the measures. He said Macron should publish names of his donors and name lobbyists that he's met.
Le Pen Arrests
Recent polls have all shown National Front leader Marine Le Pen leading the first round on April 23 with about 26 percent with little separating Macron and Republican candidate Francois Fillon in the race for second. A Harris poll released Thursday put Fillon at 21 percent and Macron at 20 percent, while OpinionWay gave Macron a one point advantage. BVA had Macron on 21 percent and Fillon at 19 percent.
With Bayrou's endorsement, "Macron can embody the return of morality to political life, which is an important issue for many voters," Bruno Cautres, a political scientist at Sciences Po institute, said on LCI television .
Hamon's ability to garner endorsements is in sharp contrast to the left, where Hamon and far-left candidate Jean-Luc Melenchon have failed to mount a joint bid. Today's Harris Poll put Hamon at 14 percent and Melenchon at 13 percent, meaning that combined they'd be the largest single force.
The two did meet to discuss combining forces, but ended up trading barbs over the weekend. Melenchon published a tribune on his website Wednesday criticizing Hamon's European policies, saying his proposals for greater integration just recycle old ideas without ending the independence of the European Central Bank. Melenchon's program calls for France leaving European Union treaties that he says impose austerity measures.
"We can never say never for the Left, but there is a huge amount of bad blood on both sides, and if Hamon gets too close to Melenchon he will lose support to Macron," said Oxford's Hazeerisingh.
Hamon has also failed to reach an agreement with ecologist candidate Yannick Jadot, who has about 2 percent support in the polls. Jadot has pushed for a faster phasing out of nuclear plants than Hamon is willing to commit to.
Before it's here, it's on the Bloomberg Terminal.
LEARN MORE