Flash Crashes, Algos and Trump in Spotlight at FX Trader Summit
By
Violent swings expected to increase as liquidity shrinks

Algos likened to driverless cars: 'human eyes' still needed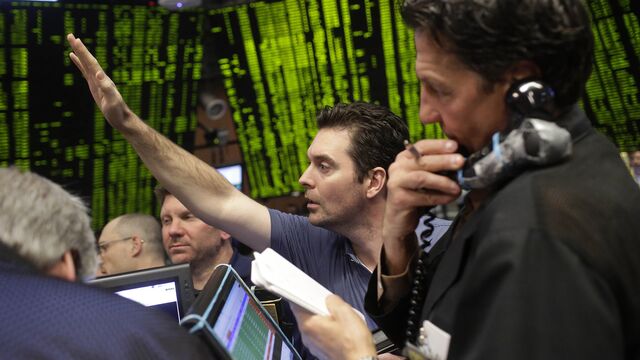 The world's biggest financial market is undergoing a transformation, as traders and investors grapple with flash events, trading algorithms and shifting regulation.
Currency traders focused on the pace of change in the $5.1-trillion-a-day foreign exchange market at last week's TradeTech FX conference in Miami. Here's what asset managers and hedge funds couldn't stop talking about at the two-day event, culled from a combination of panel comments and interviews:
Flash crashes are here to stay
Buy-side investors see violent price swings becoming more frequent in currencies. And they're not the only ones -- the Bank of England said it expects more surprise moves after studying the pound's October flash crash, when sterling fell about 9 percent against the dollar in a matter of seconds.
"It's important for us to understand what happened, and understand the market risk, because ultimately we're fiduciaries and we're trying to make money for our beneficiaries," said Alison Romano, senior investment officer at Florida's State Board of Administration, which manages the Florida Retirement System Pension Plan.
Flash moves are "coincident with markets that move at a much quicker pace," said Alex Sedgwick, head of fixed-income market structure and electronic trading at T. Rowe Price. "We view it as a risk but, ultimately, one that has had a different cause in each case," he said in a discussion of price moves including those during the U.K. Brexit vote and U.S. election.
Algos haven't replaced humans yet
As foreign-exchange desks become more automated, traders are increasingly using algorithmic strategies to execute orders. But the computer programs haven't taken over just yet. As with driverless cars, traders are still sitting in the driver's seat ready to grab the wheel in case something goes wrong.
"We feel a need to have some human eyes on the process still -- we don't think the algos are smart enough to do what the human would do," said Michael Melvin, academic coordinator at the Rady School of Management at the University of California San Diego, and a former managing director at BlackRock Inc. "Eventually, the idea would be you can climb in the back seat of the FX desk, in a sense, because once you submit the algo, it would be smart enough to learn what you would do."
And what's next? Artificial intelligence may become more widely used in currency trading in the next two years, according to Chris Matsko, head of FX trading services at Portware LLC, which offers systems to manage and execute trades.
Trump's policies seen boosting the dollar
President Donald Trump's proposed policies and the prospect of the Federal Reserve raising interest rates are going to keep the dollar "solidly underpinned" for the next couple months, according to Paul Richards, president of research firm Medley Global Advisors LLC.
"The market can expect meaningful tax, regulatory and infrastructure reform in 2017," Richards said. "That at least validates the post-Trump rally, while providing the promise of a whole lot more."
The Bloomberg Dollar Spot Index, which measures the greenback against 10 major peers, has slipped 2.5 percent this year after rallying on Trump's election victory.
Last look is still a concern
Last look, a practice that allows dealers to back out of losing trades, "was a huge topic of discussion" at the Miami gathering, said Jason Leinwand, founder of consultancy FirstLine FX and former head of currency trading at MetLife Inc. The convention can be abused and creates uncertainty for buy-side customers, said Leinwand, who argued against it in a panel debate.
Proponents of last look say it enables market makers to quote prices on a wider range of platforms and gives them a defense against faster, more sophisticated traders. Customers can choose to avoid last look by using platforms that offer firm prices.
The release of a global code of conduct for FX in May will probably offer some guidelines around the use of last look. The standards are being crafted by more than 40 industry veterans, with guidance from a group of central bankers.
Before it's here, it's on the Bloomberg Terminal.
LEARN MORE