Euro Bears Return as First Round of France Vote Comes Into Focus
By
Pound may be set for higher volatility, Bollinger bands show

Dollar consolidates as cues awaited on short-term direction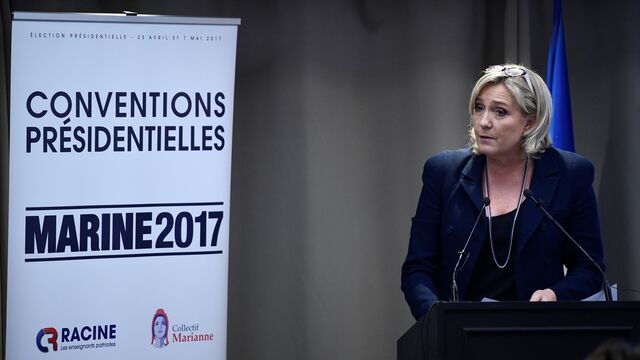 The euro is slipping again, after Wednesday's modest bounce proved too weak to last. Concerns about European political risks that were recently focused on the second round of France elections are now broadening to include the first round and even next month's Dutch vote.
Investors lightened short-euro positions in the spot market Wednesday as the Bloomberg Euro Index hit a fresh 2017 low, only to add them again Thursday, according to traders across Europe, the Middle East and Africa. Leveraged and macro accounts were seen buying the yen and the dollar versus the common currency while demand for out-the-money euro put options surged on the two-month tenor, which now captures the first round of France elections in April.
The market seems to be bracing for the possibility that above-estimate votes for French far-right presidential candidate Marine Le Pen in the first round may drive the euro lower despite the low odds of her winning the final round. A victory for the populist Freedom Party in the Netherlands could fuel a 5 percent drop in the single currency, Credit Agricole SA strategist Valentin Marinov wrote in a client note.

Two-month euro-dollar risk reversals have dropped to multi-month lows while similar gauges in the euro-pound pair touched the most bearish levels since November 2015. In the spot market, the common currency reversed early gains to drop below $1.0550 while offers were seen in the $1.0575-$1.0580 and $1.0600-$1.0610 areas, the traders add.
The pound pared Wednesday's losses as short-term investors faded dips around the $1.2400 level yet again. Price action this week has been largely driven by sterling crosses, mostly versus the euro and the yen.

Stuck between its 21- and 55-day moving averages amid lack of fresh catalysts from either side of the Atlantic, the pound-dollar pair may be edging toward a significant move, Bollinger bands on technical charts show. The bandwidth reaches its narrowest since August 2015, when a breakout resulted in a 4 percent move. The so-called squeeze needs a break of either of the bands, currently at 1.2604 and 1.2396.
Fed minutes weighed on the greenback's bullish momentum; Bloomberg Dollar Spot Index consolidates as investors look for guidance from data releases to assess if there is a strong chance of policy makers of raising interest rates next month. Comments from Treasury Secretary Steven Mnuchin and Fed officials as well as Donald Trump's speech to Congress next Tuesday should influence the greenback's moves
USD/JPY traded lower as it orbits its 21-DMA, currently at 113.28; resistance from offers at 113.75-114.00, with buyers emerging at 112.45-70, traders say. EUR/JPY drops a third day, with leveraged names seen adding shorts, taking advantage of the pair's rebound after testing its 233-DMA Wednesday for the first time since Dec. 5
Australian dollar pares losses to trade 0.1% lower for the day at 0.7699; it fell as much as 0.5% after data showed capital expenditure dropped more than forecast
Sizable expiries seen at 1.0500 (EU890m), 1.0550 (EU741m) and 1.0600 (EU831m) in EUR/USD, as well as at 112.00 ($983m) in USD/JPY
Some information comes from FX traders familiar with the transactions who asked not to be identified because they are not authorized to speak publicly
Before it's here, it's on the Bloomberg Terminal.
LEARN MORE