Brexit Bank Exodus Will Disperse Risks in Region, Weidmann Says
By
Institutions will shift 'throughout the whole euro area'

Bundesbank president speaks in Bloomberg Television interview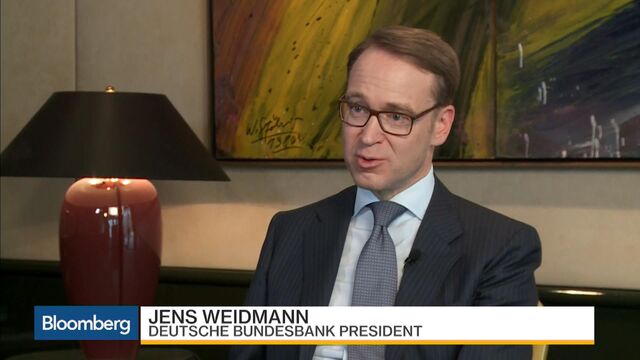 Banks moving operations from London to Frankfurt because of Brexit don't present a regulatory danger because they will also disperse elsewhere in the region, according to the Bundesbank president.
"The realistic view on all this will be that banks will relocate to some extent, and they will relocate throughout the whole euro area" and "not only to Frankfurt vis-a-vis Paris or Madrid," Jens Weidmann told Manus Cranny in a Bloomberg Television interview on Thursday. "So there will be -- if you see this from a risk perspective -- also a certain spreading of that."
Britain's impending exit from the European Union has sparked a beauty contest among rival locations seeking to lure business from London. Germany's financial regulator has offered to allow most banks that move operations to the country to keep current models for setting capital requirements for as long as two years, people familiar with the matter said this month.
Is your boss moving you because of Brexit? Here's the high life that awaits
Morgan Stanley is one bank said to be scouting for office space in Frankfurt and Dublin for an enlarged EU hub. It may initially move about 300 workers to one of the cities, according to separate people with knowledge of the matter. Losing so-called passporting rights could result in a reduction of more than 25 percent in the U.K.'s total financial services trade, the London School of Economics said in its Growth Commission Report on Thursday.
"You will find different decisions in different banks" regarding location, Weidmann said. "But I don't see this business as a risk. That's why we're here to regulate."
His pitch for banks to move to the Bundesbank's home city was brief.
"Frankfurt is an attractive place," he said. "I think Frankfurt has a lot to offer and we of course also welcome the banks."
Before it's here, it's on the Bloomberg Terminal.
LEARN MORE