Baidu Hits the Reset Button After Cleaning Up Online Advertising
Bloomberg News
The company forecast growth of up to 7.6 percent this quarter

Baidu's shares climb in after-hours trading in the U.S.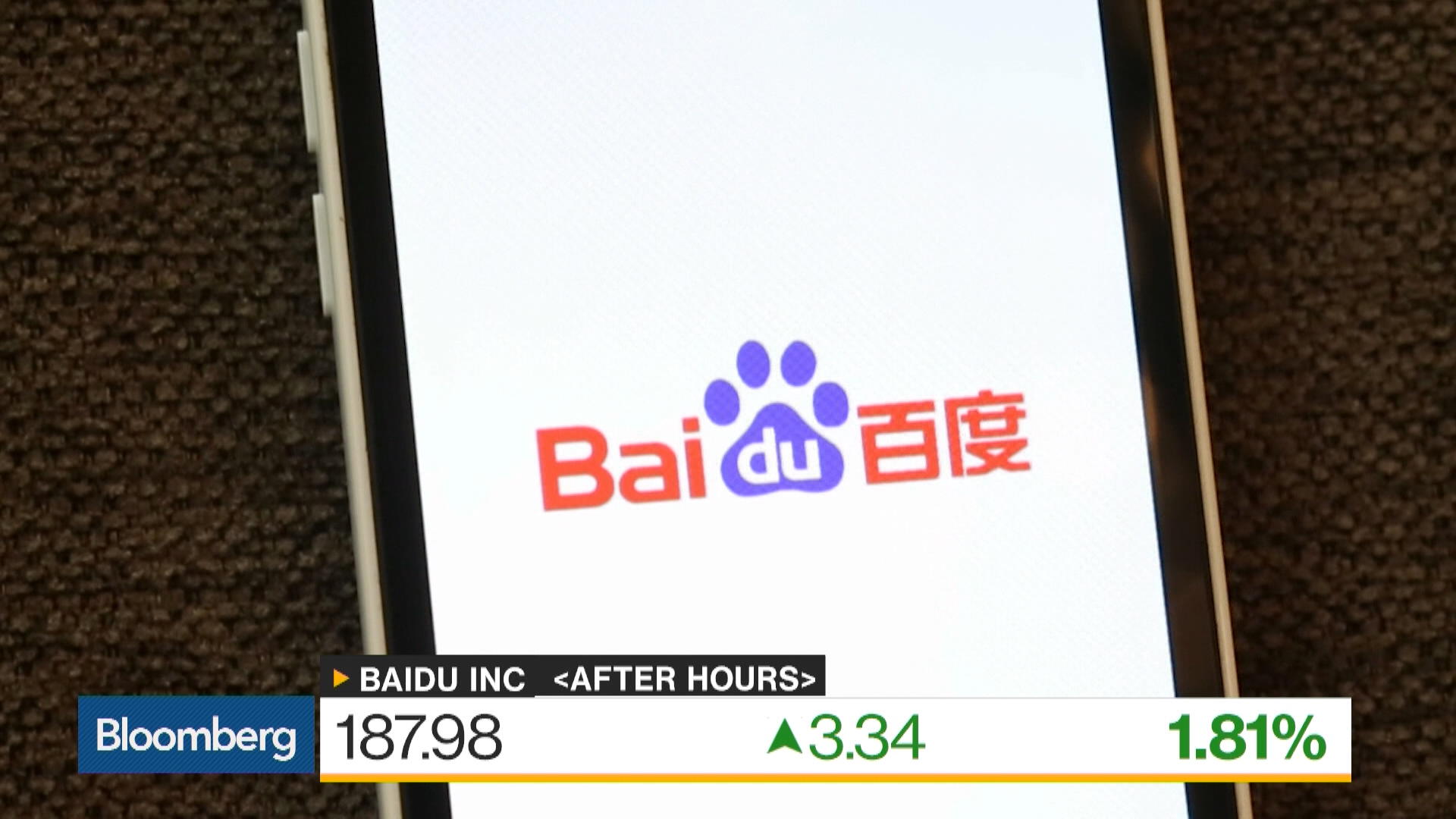 Baidu Inc. is convinced it's put the worst of a government-driven internet advertising crackdown behind it after posting quarterly revenue that beat estimates.
Sales fell a less-than-projected 2.6 percent in the fourth quarter after China's biggest search engine raised registration requirements for marketers and cut the number of ads it displays alongside results. The company instituted those measures to comply with regulatory restrictions imposed after a scandal involving medical advertisers provoked outrage on social media.
Those changes are largely complete and the company will now invest in video content and new services enhanced with artificial intelligence, Chief Financial Officer Jennifer Li told analysts on a conference call. President Qi Lu, who assumed the helm last month, is preparing to reshape Baidu and expand its products beyond search to beat back competition from Alibaba Group Holding Ltd. and Tencent Holdings Ltd.
The quarter "largely resets our revenue base, particularly for the search business," Li said. "The higher requirements for clients have been put in place and the revenue impact as a result is largely behind us."
Read more: Bloomberg Gadfly on Baidu's Neeed to Speed Up
Shares in the company rose more than 1 percent in after-hours trading. Revenue for the fourth quarter came to 18.21 billion yuan ($2.62 billion), compared with estimates for 18.17 billion yuan. Net income, adjusted for certain items, was 4.61 billion yuan, compared with the 2.52 billion yuan average of analyst estimates. That was partly due to a one-off move, swapping its shares in Uber China for a stake in Didi Chuxing after the Chinese ride-sharing company bought out its U.S. rival's domestic operation.
A recovery could come only gradually. Annual revenue climbed 6.3 percent, its slowest pace yet. Baidu's revenue growth for the current period is also forecast to be one of the slowest on record. It told investors to expect sales of 16.48 billion yuan to 17.03 billion yuan this quarter, representing 4.2 percent to 7.6 percent growth versus the 7.3 percent that analysts are projecting. 
"The bull case for Baidu is that the end of regulatory pressure boosts the topline, but they're talking about gradual return to growth," said Kirk Boodry, an analyst with New Street Research. "We've been somewhat bearish and we see no reason to change that."
Longer-term, Baidu intends to use its trove of user and search data to build products that take advantage of artificial intelligence. A key example is its news-feed app, which the company said will begin to generate substantial revenue in coming quarters. Significant investment in content and technology will be needed to ensure Baidu maintains an edge over its rivals, Chief Executive Officer Robin Li said. 
"2016 was a busy year, in which we experienced both significant breakthroughs and challenges as Baidu transitioned into the newest and most exciting stage of our journey so far," the company's billionaire founder said.
The company didn't outline a firm timeline as to when it will start reaping major returns from its investments, outside of optimizing the search business. Building up its pool of customers is vital as Baidu attempts to create world-leading artificial intelligence services. AI systems learn faster when given more real-world material, such as photos and search terms submitted by users. It had 665 million mobile users as of Dec. 31, compared with 657 million a year earlier.
But that metric and others like it will soon be harder to track. Baidu said it would stop reporting several key statistics used to gauge its success. The monthly active users of its mobile search engine, mapping app, gross merchandise value and the number of people using its wallet app will no longer be released on a regular basis.
Lu was named Baidu's new vice chairman on Friday while Greg Penner, who's been on the board since 2004, will step down. Lu, a former senior Microsoft Corp. executive, will prove key to driving Baidu's longer-term AI research and development.
"It is still uncertain when it comes to monetization or full commercialization," said Marie Sun, a Morningstar Investment Service analyst . "On search it is still the number one in China, but our prior forecasts predict that advertising budgets could be grabbed by providers that aren't search providers, like social networks or other news apps."'
— With assistance by David Ramli
Before it's here, it's on the Bloomberg Terminal.
LEARN MORE