Austria's Kern Targets Robots' Rise to Blunt Populist Surge
By , , and
Combating global inequality needs new tax rules, Kern says

Countries must adapt to coming 'step change' in unemployment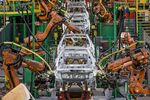 Austria's Chancellor Christian Kern said rapid advances in automation will threaten half of the world's jobs as he backed calls by Bill Gates to fight inequality with measures such as a tax on robots.
Disruption "starts at a slow pace and then comes a big step change. We have to prepare," Kern said in an interview Thursday in Vienna. "I feel really comfortable that Mr. Gates just recently shared the idea and supported it." 
While the concept of taxing machines isn't new, Kern, 51, is one of the first government leaders to raise the issue to the top of the political agenda. The proposal features in his party's recent Plan A political manifesto and comes as he looks for new allies to stop a populist uprising that he says wants the establishment "on their knees."
Even though Austria has one of the European Union's lowest unemployment rates and its standard of living is among the world's best, its politicians have come under increased attack. The anti-immigrant Freedom Party came within 30,000 votes of taking a presidential run-off election last year, a result that would have upturned more than 70 years of rule by Social Democrats and the center-right People's Party.
Gates, who is the world's richest man and has committed much of his wealth to global initiatives, said in a Quartz news interview posted Feb. 17 that robot taxes could help fund other types of employment. "I don't think the robot companies are going to be outraged that there might be a tax. It's OK," Gates said.
Kern said that while he won't increase taxes in Austria he wants to shift them away from labor, and from the middle class, and measures such as a robot tax could be used to spur new investments. "If we go on with the tax system we have, we are charging the wrong people," he said. "We have to think creatively."
Fragile Gains
Kern, who hasn't spoken to Gates, said he told his aides in jest to send Gates a membership card for his party. He spoke in an interview in the wood-paneled room from which Chancellor Bruno Kreisky governed Austria in the 1970s when he modernized the Alpine country.
A former chief executive of Austria's national railroad, Kern said leaders must "leave behind this neo-liberal concept of Europe," add a "social pillar" to the EU's fundamental policies, and do more to prepare for emerging technologies. Otherwise, the democratic values of the EU are at risk as well.
"These achievements are more fragile than expected and that's the lesson of Mr. Trump, that's the lesson of Brexit and that's the lesson of the right-wing populists," Kern said.
He offered voters who abandoned his party a rare apology in a speech last month, saying he understood why they felt abandoned. His party is currently polling at about 29 percent, a far cry from the 51 percent Kreisky won in 1979 and trailing the right-wing populist Freedom Party after bleeding voters to them for 30 years.
"We have ignored the Freedom Party in the past, our intention now is to reveal that they have no concept, no answers," he said. "That was also the idea of the apology, to say we have understood, we made mistakes, we led the country in the wrong direction, but now we're changing that."
The election of U.S. President Donald Trump may ultimately erode the momentum of populist politicians, Kern said. That was already noticeable when Austria's presidential election had to be repeated after a court decision: In the re-run that took place after Trump's victory, Freedom's losing margin widened to 350,000 votes. The group may now be past its peak, Kern said.
"What's demonstrated here is that if you vote for a right-wing populist leader, you get right-wing populist politics, which is not representing the common man of the United States but half of the board of Goldman Sachs," he said.
— With assistance by Matthias Wabl, and Matthew Miller
Before it's here, it's on the Bloomberg Terminal.
LEARN MORE