Allergan CEO Pushes for Trump to Lead Drug Price Discussions
By
Saunders points to JFK's tactics to hold down steel costs

Drugmaker looks for smaller takeover targets, no megadeals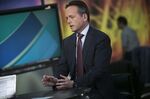 To satisfy the Trump administration's calls to deal with high U.S. drug costs, one industry leader is proposing that the president lead negotiations with drugmakers to restrain prices.
Allergan Plc Chief Executive Officer Brent Saunders cited tactics used by President John F. Kennedy decades ago to keep down steel prices. The administration also could waive federal antitrust rules that currently prohibit drugmakers from discussing pricing so they could put together guidelines to follow, he said.
Voluntary agreements that restrain prices are "a very practical solution that doesn't, in my view, do anything to impede innovation," Saunders, 47, said Wednesday in an interview at Bloomberg's headquarters in New York. Convincing fellow drugmakers to agree with him, however, could be a challenge. "It would be difficult," the CEO said.
Big Pharma is under intense pressure to come up with ways to reduce prices after President Donald Trump accused the companies of "getting away with murder" and threatened to use the government's buying power to force prices down. Saunders has been outspoken against excessive price hikes in his own industry. At Allergan, an $80 billion company whose products range from wrinkle treatment Botox to stomach and schizophrenia medicines, the CEO has implemented a "social contract" that caps increases at 10 percent annually.
'Social Contract'
Trump "could model something like that with the pharmaceutical industry -- maybe that could look like something like our social contract," said Saunders, who has led the company since 2014. "It's easy for me to suggest when we're already doing it, just to be transparent," he added. Asked about a targeted amount under restraint agreements, he said low single digits, or about the rate of inflation.
Pharmaceutical giants including Novartis AG, Takeda Pharmaceutical Co. and AbbVie Inc. also have taken voluntary actions to cap price increases. Johnson & Johnson and Merck & Co. have taken steps to increase transparency about their prices.
"The industry has moved quite a bit in three months, four months," Saunders said. "But it would need another big push."
Under Saunders, Allergan has transformed itself into a specialty pharmaceutical behemoth after a series of acquisitions and the sale of its generics business. After an attempt to merge with Pfizer Inc. in a $160 billion megadeal that was abandoned last year, Allergan has focused on smaller purchases.
Its shares are down compared to the rest of the industry. Over the last 12 months, they've lost 14 percent, as of Wednesday's close, compared with a 7.6 percent gain in the 25-company Standard and Poor's 500 Pharmaceuticals, Biotechnology & Life Sciences Index, which includes Allergan.
Hair, Skin Treatments
Rather than another transformational deal, Saunders is more interested in building up Allergan's main therapeutic areas, including medical aesthetics and dermatology, eye care, central nervous system and gastroenterology. In the past two months, he's made two acquisitions worth a combined $5 billion to add to Allergan's aesthetic-medicine and cosmetic-surgery lines.
Hair restoration and skin quality are the next frontiers, he said. The company is currently doing research in both of those area.
"Those are huge unmet needs," he said.
When asked about Valeant Pharmaceuticals International Inc., whose assets include the Bausch & Lomb eye-care company that he once led, Saunders says he's not interested -- not even "in pieces."
Valeant didn't respond to a request seeking comment.