Yale's Roach Warns U.S. of Disastrous Effects of Protectionism
By
Stephen Roach speaks with Bloomberg Television's Tom Keene

President Trump has called for 'America first' policies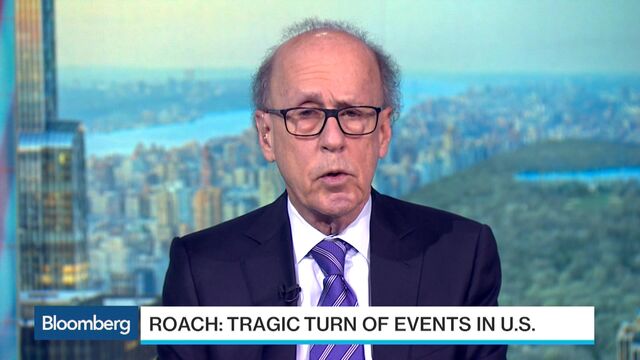 Slapping 1930s-style tariffs on U.S. trading partners would lead to economic ruin, according to Stephen Roach, a senior fellow at Yale University.
"It'll be an absolute, unmitigated disaster for the United States and the global economy," Roach told Tom Keene and Francine Lacqua in a Bloomberg Television interview, responding to a question about protectionism. "History does not repeat itself, but it often rhymes -- and the rhymes are what are frightening me today."
To watch Roach on protectionism, click here
U.S. President Donald Trump has criticized other countries for their trade practices and supports a border tax on shipments to the U.S. In his inaugural speech, he pledged to follow an "America first" economic policy, calling on his countrymen to "buy American and hire American."
Roach, a former non-executive chairman for Morgan Stanley in Asia, said there was a "groundswell of support" for protectionist measures among White House officials. Yet such steps would act as a tax on beleaguered consumers, he said.
Should the U.S. follow the path taken in the 1930s with tariffs and retaliatory actions, "if you think things are bad now, you've not seen anything yet," he said, adding that the ill effects of such action couldn't be offset by a reform of the tax code. "If we go down the road of imposing tariffs on our major trading partners, including China, they will retaliate on us" and may scale back purchases of U.S. debt, he said.
Fed's Guts
As for the Federal Reserve, which Trump singled out for scorn during his election campaign, Roach said that while policy makers might be "a little bit" worried about the uncertainties stemming from the new administration's policies, the bigger concern was normalizing interest rates.
Investor expectations for an interest-rate increase at the Fed's next policy meeting rose after Chair Janet Yellen indicated Feb. 14 that she foresees additional tightening this year regardless of whether Trump follows through on plans to pursue pro-growth fiscal measures. Policy makers gather March 14-15 in Washington.
"How do they wean the patient from the drug?," Roach said. "Do they have the guts to do it? And it does not look like they do."