business
Trump's Trade Concerns? WTO Head Says Organization Can Handle It
By
Every country complains about unfair commerce, WTO head says

Total CEO says growing protectionism could be catastrophe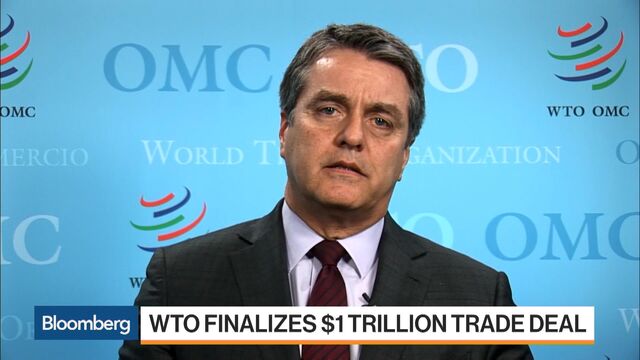 The World Trade Organization has the tools to handle many of the trade concerns raised by President Donald Trump, Director-General Roberto Azevedo said, seeking to calm worries that the new U.S. administration could usher in a new era of protectionism.
"I heard the U.S. team complaining about unfair trade," Azevedo said in a Bloomberg Television interview with Mark Barton from Geneva on Wednesday. "Every single country in the WTO complains about unfair trade. What you do about that is the big question."
Azevedo, 59, said he's waiting for details of the Trump administration's trade policy before making any judgments. Trump last month signed an order to withdraw the U.S. from the Trans-Pacific Partnership and plans to open talks to renegotiate Nafta, the 23-year-old deal binding the U.S., Canada and Mexico. U.S. lawmakers are also considering a border tax on corporations.
"In trade, the devil is in the details," said Azevedo.
Total SA Chief Executive Officer Patrick Pouyanne said Tuesday in a Bloomberg television interview in New York that "this trend to have countries around the world thinking that it's better to be inside their borders" than open to the world "will lead to catastrophe."
Before it's here, it's on the Bloomberg Terminal.
LEARN MORE