Trump Vows to Put CEOs to Work Restoring U.S. Manufacturing
By and
President summons executives to White House session on economy

Agenda includes taxes, trade, infrastructure, deregulation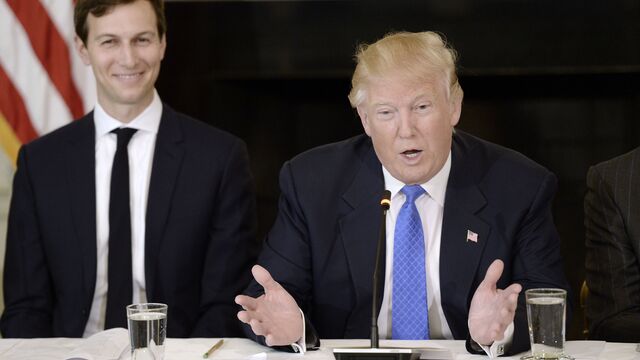 President Donald Trump summoned some of America's most prominent corporate executives to the White House Thursday and told them he intends to put them to work restoring manufacturing jobs and U.S. dominance in trade.
"They share our commitment to bring manufacturing back and to create jobs in this country," Trump said as he sat with the 24 business leaders, who included Dow Chemical Co. Chief Executive Officer Andrew Liveris, General Electric Co. CEO Jeffrey Immelt, Lockheed Martin Corp. CEO Marillyn Hewson, and Caterpillar Inc. Chairman Doug Oberhelman.

Trump used the public portion of the meeting to reiterate some of his campaign themes, blasting what he called "unbelievably bad" trade deals and singling out trade deficits with Mexico and China. He vowed to punish companies that move jobs outside the U.S. and promised to squeeze more money out of government contracts, citing his talks with Hewson, which he said cut the cost of Lockheed's F-35 fighter jet by more than $700 million.
"She's tough, but it worked out well I think for everybody," Trump said of Hewson.
Campbell, Corning, Nucor
Before meeting with Trump, the executives split into working groups to explore policy changes on topics such as taxes and trade, regulation, infrastructure and the future workforce. Joining them in the breakout sessions were administration officials, including Vice President Mike Pence; Gary Cohn, director of the National Economic Council; Treasury Secretary Steve Mnuchin; and Trump's son-in-law, Jared Kushner.
Campbell Soup Co. CEO Denise Morrison, Harris Corp. CEO Bill Brown,  Johnson & Johnson CEO Alex Gorsky and David Farr, CEO of Emerson Electric, were among those who took part in the working group sessions with administration officials, who also included budget director Mick Mulvaney.  In a meeting with Cohn and Transportation Secretary Elaine Chao, business leaders including Corning Inc. CEO Wendell Weeks and Nucor Corp. president John Ferriola discussed indexing gasoline taxes to provide more money for transportation projects.

Thursday's meeting grew out of Trump's December announcement of an advisory panel on manufacturing.
Liveris, who is leading the panel, said afterward that he and the other executives were "very encouraged" by the pro-business approach being taken by the administration.
Taking part in a session on the workforce of the future, Liveris said there must be a "systemic fix" to address the shortage of workers prepared for jobs requiring skills in science, technology, engineering and mathematics.
"We have supply-side issues today," he said, "half a million open STEM jobs that we can't fill. We need to fill them with Americans."
He also said community colleges need to provide more vocational training for "the noble trades," which had been a priority of the Obama administration.
Hewson told reporters that Trump is ready to take quick action on streamlining rules for businesses. "It's very important that we reduce regulations, that we eliminate those that are burdensome that are unnecessary," she said.
Ahead of the meeting, Business Roundtable, the lobbying group for U.S. corporate executives, sent a letter to Cohn laying out 16 regulations of top concern to its members. The letter touches on everything from the Affordable Care Act to net neutrality to environmental regulations -- but also hints at CEO concerns about the economic impacts of Trump immigration and trade policy.
EPA Rules
Topping the Business Roundtable list is a 2015 move by the Environmental Protection Agency to tighten national ambient air quality standards for ground-level ozone, as well as EPA limits on new coal-fired power plants and expanded jurisdiction over state waters. The list also includes overtime regulations; Dodd-Frank provisions including CEO pay ratio disclosure, conflict minerals disclosure rules and margin requirements for uncleared swaps; and employer reporting and tax requirements under the Affordable Care Act. In addition, the group is seeking expedited export controls and tightening eligibility and increasing exclusions for shareholder proposals.
"While some of the listed regulations in isolation may not appear significant to growth, their cumulative effect has drained resources from innovation and job creation and directed them to non-value adding administrative and bureaucratic activities," said the letter, signed by Mark Costa, the chairman and CEO for Eastman Chemical Co. who leads Business Roundtable's smart regulation committee.
At the same time, the letter said that as the administration "considers new policies with regard to immigration or the expansion of 'Buy America' requirements, Business Roundtable stands ready to assist to prevent unintended consequences that would inhibit the ability for U.S. companies to drive economic growth and be globally competitive."
U.S. Production
Trump has used previous meetings with companies to encourage corporate leaders to build their products in the U.S., offering tax breaks and lower regulation to bring down costs -- and warning that he wants to raise tariffs on products produced overseas. The heads of labor organizations, automotive firms, national retail chains, drug companies, and airlines are all among the groups who have met with Trump in the West Wing in recent weeks.
Neither Trump nor the CEOs indicated they had a detailed discussion of his plans to overhaul the tax code, which he has said he will deliver within weeks, or a border-adjustment tax proposal under consideration by House Republicans, which would shift the tax burden from exporters to importers.
Republican leaders in the House, including Speaker Paul Ryan, argue a border-adjustment tax would benefit American manufacturing while providing revenue to make up for losses from reducing corporate tax rates. Several manufacturers, including Dow Chemical, are actively lobbying for the plan, which Trump has called "too complicated." Opponents, including net importers like Wal-Mart Stores Inc., oppose it and warn it will raise taxes on American consumers.
— With assistance by Ben Brody, Michelle Cortez, Margaret Talev, and Toluse Olorunnipa
Before it's here, it's on the Bloomberg Terminal.
LEARN MORE