Is Modi on a Road to Nowhere in India's Most Populous State?
Iain Marlow and Bibhudatta Pradhan
Bad result in Uttar Pradesh will hinder Modi's re-election bid

State government spends billions on infrastructure projects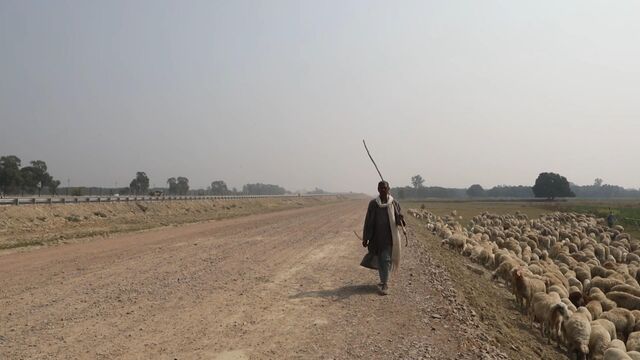 A smooth, six-lane expressway has made Kailash Singh a rich man. And that's an ominous sign for India's prime minister.
The road cuts through the yellow mustard fields of northern India, extending from Agra, home of the Taj Mahal, to Lucknow, the capital of Uttar Pradesh -- India's most populous and politically important state. On the way, it passes straight through Singh's farm.

The state government, determined to complete the 302-kilometer road quickly, paid Singh way over the market price -- 10 million rupees ($150,000) -- for about an acre of land and an old house. Singh promptly built a two-storey house with a marble floor and ceiling fans on the veranda. Many of the 300 families in the village of Naktaura have similarly gone from mud huts to colorful villas decorated with Hindu deities -- and large stickers promoting the state's chief minister Akhilesh Yadav and his ruling Samajwadi Party. 

That's bad news for Prime Minister Narendra Modi, whose Bharatiya Janata Party is battling a crucial state election in Uttar Pradesh that began on Feb. 11. The election is just one of five state polls taking place across India. Punjab, Uttarakhand, Goa and Manipur are voting as well, with results for all states announced on March 11.
Read more: Modi's Clout at Risk as Rookie India Party Surges in Punjab
In the 2014 general election, Modi swept this poor state of 200 million people by promising development. But for farmers like Singh, who voted the BJP into national office, it is not Modi but Yadav's administration that's delivered on its promises. The success of the expressway and other projects has allowed the Samajwadi government to hijack Modi's mantra of development. Now it's possible the BJP could lose India's most important state election, endangering further economic reforms and sapping Modi's momentum ahead of the 2019 national elections.
The state government's lavish compensation to farmers, as well as the expressway's completion in just 24 months, contrasts starkly with a behind-schedule road being built by Modi's government elsewhere in the state.

"Everyone here is talking about Akhilesh and his development," Singh says on his roof, as he looks over the expressway. "People are now comparing Modi to Akhilesh -- their promises and what they have delivered. On this matter, Akhilesh is ahead."
Read more: Free Smartphones and Toilets Herald Rural India Spending Spree
Crucial State
Uttar Pradesh -- a vast state that touches Delhi in the northwest and Nepal in the north -- has long been associated with poverty and corruption.
This Hindi heartland state is politically crucial: it sends more representatives to the upper and lower houses of parliament than any other. Winning Uttar Pradesh would give Modi momentum and boost the BJP's position in the Rajya Sabha, or upper house, to push contentious legislative measures such as land and labor reforms. Losing would send a signal that Modi's re-election in 2019 is not a sure bet -- which analysts suggest would move markets downwards.

Across central and eastern Uttar Pradesh, it is clear the Samajwadi Party's infrastructure projects -- and branding -- have paid off. An alliance with the Congress Party also seems to have consolidated Muslim voters, which generally split between Congress and the Samajwadi Party in a state where caste and religious identity often determine votes.
At the same time, Modi's disruptive cash ban -- which has caused hardship across India -- does not seem to have shifted political allegiances: Those who like Modi support the policy and those who oppose it tend to back the BJP's rivals. Meanwhile, support for the Bahujan Samaj Party, which governed the state between 2007 and 2012 and draws much of its voter-base from low-caste communities, remains strong among poor villagers.
"The local Samajwadi Party MLA is very unpopular, so we will probably shift to the BSP," said Ram Naresh, who pedals a cycle-rickshaw in the Uttar Pradesh village of Mangalpur.
At an election rally in Bahraich on Thursday Modi criticized the Samajwadi Party and Congress coalition. "Congress has been wiped out. They are sinking and they will drag you down," he said. "People of Uttar Pradesh will not accept this opportunist alliance."
Tale Of Two Roads
Roughly four hours southeast of Lucknow, just outside the city of Sultanpur, a federal government-built national highway begins to break down. 
The fresh asphalt on the two-lane road is missing in large chunks, and disappears entirely over bridges. And after the village of Semari, where the highway is jammed with buses, jeeps and pedestrians, it vanishes into a vast expanse of sand. 
The road -- national highway No. 232, stretching 288 kilometers from the town of Banda to the town of Tanda -- was started around the time Modi was elected in 2014 and was meant to be finished by late 2016. It's still a work in progress.
Durbali Pandey, 50, a farmer in Semari, sold close to an acre of land so the government could pave over his rice and wheat fields. He received 528,000 rupees ($7,880) from Modi's government, which he knows is far less than the Akhilesh government paid to farmers.
"We feel cheated," he said, standing on the dusty highway with his bicycle with other villagers who said they will vote for the Samajwadi Party and not Modi. "Both of them are talking about development. But we know Akhilesh."
Modi's office would not comment on infrastructure development in Uttar Pradesh, referring calls to Ministry for Road Transport and Highways officials who did not respond to several phone calls, an e-mail and a text message.
Great Disadvantage
Asked about unfinished roads, the BJP chief in the Uttar Pradesh district of Varanasi, Hansraj Vishwakarma, said opposition claims that Modi hasn't pushed for development in the state were a "complete lie." He lists roads, rural electrification and efforts to clean the Ganges river as examples.
"Lots of development work is visible," Vishwakarma said. "Let our government be formed, you will see how Uttar Pradesh will be changed in every aspect."
The federal government said last year it completed 865 kilometers of national highways in Uttar Pradesh over the past two years at a cost of nearly $1 billion.
Read More: Modi's Holy City Shows $1 Trillion Hidden Economy Is Stalled
A.K. Verma, director for the Centre for the Study of Society and Politics in Kanpur, said most voters understand economic development as a local phenomenon.
"One very great disadvantage for the BJP is that some development may have come from the central government, but they are not able to aggressively market that," Verma said.
Opinion polls conducted in January produced conflicting results. An ABP News-CSDS poll released in late January suggested the Samajwadi Party-Congress alliance could win between 187 and 197 seats in the 403-seat state assembly, with the BJP scoring between 118 and 128 seats. An India Today-Axis poll, conducted around the same time, suggested the BJP would win between 180 and 191 seats compared to the Samajwadi-Congress alliance's 168 to 178.
Broader Impact

 
Aashish Yadav, who heads the Samajwadi Party's war room in Lucknow, said the party's concentration on development and infrastructure has been deliberate.
"If you go and talk to people in the countryside, they'll also tell you that development means Akhilesh Yadav," he said. "That's why the entire campaign is focused on development."
The state government promised more expressways -- stretching east, south and north of Lucknow -- to bring development to other parts of the state. It is also building roadside markets on the expressways so local farmers can sell their produce.
Not everyone is enthused. Dinesh Singhal, managing director of Kanohar Electricals Ltd., which runs a 400-person factory in the city of Meerut, says the business environment has deteriorated in the past five years -- and no party is promising anything for industry.
"Akhilesh is trying to build his image on development, but I don't think he's done any development in the state -- except for one road," Singhal said. "If the BJP comes into power it might change."
Singhal joked that even though Modi's demonetization caused cash shortages, at least he was able to claim he didn't have any money when officials in Uttar Pradesh asked him for bribes.
Development
Uttar Pradesh remains one of India's least developed states. But it has improved. Infant mortality has been falling, and between 2012 and 2013 fell from 53 infants per 1,000 live births to 50, according to the government.
And development spending has grown under the Samajwadi Party, according to government statistics: The state government spent 12.6 percent of gross state domestic product on development in 2012, rising to 13.9 percent in 2013 and 17 percent in 2014.
Along the Agra-Lucknow expressway, the state government's largess seems to have cascaded. 

In one village, Samshad, a farmer who goes by one name, used compensation to buy two water buffalo and start a milk business. In Naktaura, Singh's village, Ram Gopal Yadav, whose shop was plastered in Samajwadi Party stickers and one scratched out BJP sticker, built four brick shops next to his own and rents them out as a new source of income. All say they will vote for the Samajwadi Party.
"Because of this road many areas have developed," Singh said, praising the chief minister. "If he comes back to power, he will build roads in other areas. And the state will become more prosperous."