Le Pen's Aides Placed in Custody for Interrogation Amid Probe
By
Case concerns suspicions Le Pen misused European money

Le Pen's body guard, former cabinet head in custody, AFP says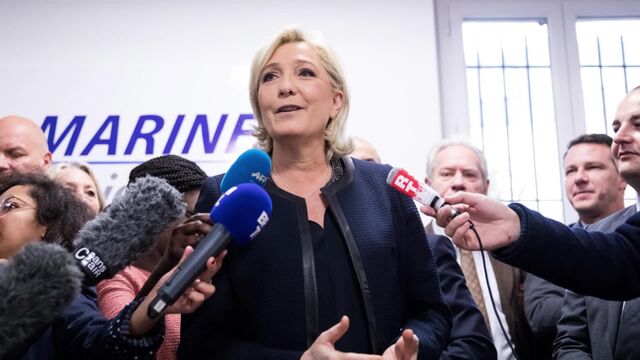 Two aides to French presidential candidate Marine Le Pen were placed in custody for interrogation the same week French investigators raided her National Front party's headquarters as part of a probe into whether she improperly used European money to pay their salaries.
Le Pen's body guard as well as her former cabinet head were placed in custody for an interrogation regarding suspicions of fictitious employment at the European Parliament as parliamentary assistants, Agence France-Presse reports, citing a source familiar with the case.
Le Pen dismissed the case earlier Wednesday, calling it a "political plot," according to comments reported by AFP. Her spokesman didn't immediately respond to requests for comment.
The European Parliament has ordered Le Pen to repay the money, estimating the improper payments at 336,146 euros ($353,000). She has refused to pay it back, saying the jobs weren't fictitious, and has appealed the decision.
OpinionWay's daily poll on Wednesday put Le Pen in the lead with 26 percent of the vote in the first round of the French presidential election on April 23, ahead of independent Emmanuel Macron and Republican candidate Francois Fillon. While no survey has shown Le Pen would win in the May 7 run-off, she's narrowing the gap to her rivals.
Le Pen isn't the only candidate with legal issues. Fillon is being probed over whether his wife actually worked while she was on the French parliament's payroll as an aide to her husband.
— With assistance by Rudy Ruitenberg, and Gregory Viscusi
Before it's here, it's on the Bloomberg Terminal.
LEARN MORE