business
Iron's Biggest Champions Call Breakneck Rally Into Question
Bloomberg News
Miners say outlook sound but question extent of recent gains

Market likely to come under pressure in short term, BHP says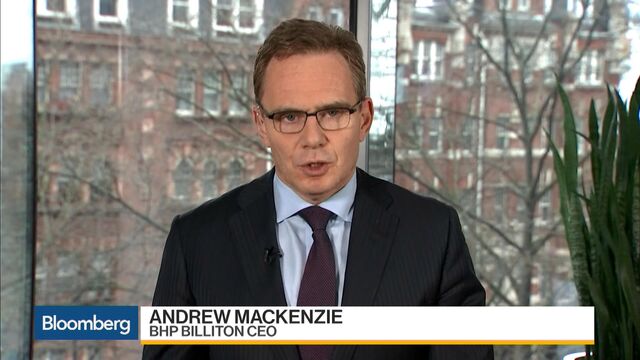 Iron ore's rally to the highest level since 2014 has been so strong even the industry's champions are flagging the possibility of a pullback.
As prices soar toward $100 a metric ton, BHP Billiton Ltd. says the market is likely to come under pressure, Fortescue Metals Group Ltd. forecasts the raw material may moderate and Africa's top supplier sees a deep retracement. At the same time, Macquarie Group Ltd. is warning of steep losses amid abundant supply, and Goldman Sachs Group Inc. has highlighted bulging stockpiles.
"In the short term, we're seeing stocks increase and prices increase at the same time, which is very unusual," Fortescue Chief Executive Officer Nev Power said on a conference call on Wednesday after the fourth-largest shipper reported first-half profit almost quadrupled. "We will see it moderate back to more sustainable, or should I say historic levels because it does seem to be just driven by a short-term market right now."
Iron ore soared in 2016 as growth in China stabilized and steel production held up, boosting demand for cargoes from Brazil and Australia. The rally has extended into this year, given added impetus by rising steel prices and elevated demand for higher-grade ores. While the advance has aided miners' profits and shares, including BHP's, it's also spurred forecasts for renewed losses as low-cost mine supplies rise and stockpiles in China swell to records.
Goldman's View
The stockpiles are a downside risk, according to Goldman, although strong demand is supporting prices in the near term. "Inventory levels are likely to increase further and could potentially set new records," the bank said in a report received on Wednesday. "An eventual destocking phase would require domestic producers to scale output down as prices fall below the Chinese cost curve, and the outlook for the second half is relatively bearish."
Ore with 62 percent content in Qingdao declined to $94.30 a dry ton on Wednesday, after peaking on Tuesday at $94.86, the highest level since 2014, according to Metal Bulletin Ltd. On Thursday, futures in Asia sagged, with losses in both Singapore and Dalian.

While a driver of the surge has been expectations for sustained improvements in steel production and consumption in China, there's doubt from within the country that's likely. The nation's steel demand will probably contract 1.8 percent this year, and go on falling through to 2030, according to the China Metallurgical Industry Planning & Research Institute.
The commodity will probably average $65 a ton this year, Lv Zhenhua, an engineer at the institute, told an industry conference in Dalian on Wednesday. The state-linked body helps guide policy in the largest steelmaker, which accounts for half of global supply and is the largest buyer of seaborne ore.
Era of Decline
The World Steel Association is also cautious on the outlook in the country. Steel intensity is entering an era of decline, Frank Zhong, the group's chief representative in Beijing, told the conference. Development goals in 13th Five-Year Plan won't add much demand, while the slowdown in GDP growth will have a significant negative impact, Zhong said.
On Tuesday, as BHP reported a surge in first-half profit after commodities including iron ore recovered, the world's largest miner also suggested iron ore might soften. The market is "likely to come under pressure in the short term from moderating Chinese steel demand growth, high port inventories and incremental low-cost supply," the company said.
This month, Kumba Iron Ore Ltd. Chief Executive Officer Themba Mkhwanazi offered perhaps the bluntest outlook from suppliers, warning the good times probably won't last."The recent past has shown us that when prices turn, they turn dramatically, and we are highly sensitive to that," Mkhwanazi said. He sees prices stabilizing at $50 to $60 a ton in the medium term.
Bigger Picture
Fortescue's Power coupled his near-term warning with a testament about the bigger picture, saying there's a positive outlook on the market given the strength of China's demand. Last week, Rio Tinto Group Chief Financial Officer Chris Lynch told Bloomberg that iron ore will defy forecasts for a collapse, saying: "I wouldn't necessarily say that it's going to fall off a cliff."
Still, record supply is stacking up at ports in China, and there are new mines coming on stream. Port holdings expanded 0.5 percent to 127.6 million tons last week, according to Shanghai SteelHome E-Commerce Co. In Brazil, Vale SA is now bringing on output from S11D, it's largest project.
"With inventory levels high for both steel and iron ore, it is only a matter of time in our view before confidence in demand meeting elevated expectations starts to wane, and mills go into a destocking cycle," Macquarie Group said in a note dated Feb. 20. With "supply in abundance, we'd therefore expect prices to fall sharply toward a more fundamentally supported $60 a ton level."
— With assistance by Jake Lloyd-Smith
(
Updates futures prices in sixth paragraph.
)
Before it's here, it's on the Bloomberg Terminal.
LEARN MORE