Ex-Hong Kong Leader Tsang Jailed 20 Months for Misconduct
By and
City's first ex-chief executive convicted for corruption

Donald Tsang led Asian financial hub from 2005 to 2012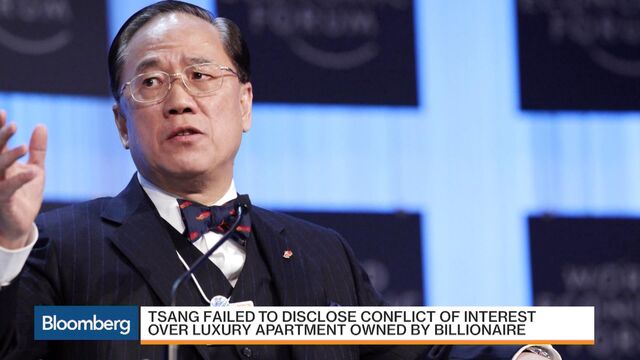 Hong Kong's former chief executive, Donald Tsang, was sentenced to 20 months in prison for misconduct in office, capping a stunning downfall for an official who helped steer the former British colony through a series of financial shocks.

Tsang, 72, had breached the trust of Hong Kong's people, High Court Justice Andrew Chan said while handing down the punishment. On Friday, Tsang was convicted of misconduct for failing to disclose a conflict of interest that arose when he was negotiating rent for a luxury apartment with a landlord who was applying for a broadcasting license before the city.

"Today is a very dark day," his wife, Selina Tsang, told reporters after the verdict. The family was "disappointed" about the result and plans to appeal the conviction, she said.
Tsang, who served as chief executive from 2005 to 2012, is the financial hub's first former leader convicted of a criminal charge. The sentence comes about a month before a committee of political insiders picks the city's leader for the next five years, with residents increasingly concerned about a growing wealth gap in a city that routinely ranks among the world's most corruption-free places in surveys.
Big Fall
"Clearly the rule of law prevails and is very much alive and kicking in Hong Kong," said Alan Leong, a former leader of the pro-democracy Civic Party who ran against Tsang in the 2007 chief executive race. "The takeaway is that those who occupy public office -- especially high office -- ought to be whiter than white." 
Wearing his trademark bow tie in the courtroom, a weary-looking Tsang coughed frequently while sitting in a glass box during the sentencing. After the judge finished, his wife rushed up and spoke with him briefly before officers took him away.
"Never have I in my judicial career seen a man fallen from so high," Chan said ahead of the sentencing.
The Independent Commission Against Corruption's case against Tsang revolved around whether he failed to disclose the apartment between 2010 and 2012. The rental deal for the three-story apartment in the adjacent Chinese city of Shenzhen involved Bill Wong, a major shareholder in Digital Broadcasting Corp., which at the time was applying for a broadcast license, according to prosecutors.
Luxury Apartment
The jury found him not guilty of misconduct for failing to disclose his relationship with an interior designer who refurbished the apartment, whom Tsang later supported for a top city honor. It failed to reach a verdict on a third charge that he accepted a bribe related to the HK$3.35 million refurbishment. The judge has granted a retrial on that charge.

Tsang joined the colonial government in 1967, rose to financial secretary under the last British governor and was knighted for his service. The devout Roman Catholic won widespread praise for his stewardship of the economy during the Asian financial crisis, leading a $15 billion defense of the Hong Kong dollar.
The ICAC is currently investigating whether outgoing Chief Executive Leung Chun-ying failed to disclose a HK$50 million payment from an Australian construction company relating to a business deal before he took office, which he says wasn't covered by disclosure requirements.
Simon Young, an associate dean of the University of Hong Kong's Faculty of Law, said the prosecution had boosted confidence in the city's anti-corruption efforts. "It sends quite a strong message to the community and to future leaders and to future politicians that the ICAC can and will look into these matters," Young said. 
The case is Hong Kong Special Administrative Region v Tsang Yam-kuen Donald, HCCC484/2015, Hong Kong High Court.
— With assistance by Debra Mao
Before it's here, it's on the Bloomberg Terminal.
LEARN MORE