Five Things You Need to Know to Start Your Day
Get caught up on what's moving markets.
By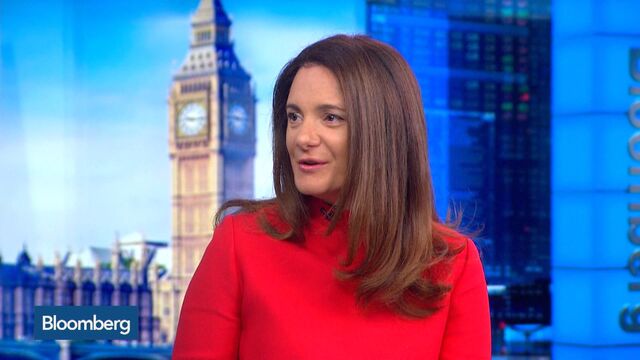 Want to receive this post in your inbox every morning? Sign up here.
The minutes of the Fed's February meeting are due, U.K. GDP is revised higher, and Trump's crackdown on immigrants is predicted to strain the labor market. Here are some of the things people in markets are talking about today.
Fed minutes
The Federal Reserve will publish the minutes of its Jan. 31 - Feb. 1 meeting at 2 p.m. Eastern Time today. Investors will read it closely for signs of consensus among policy makers on the timing of the next interest-rate increase. The dollar is trading in a narrow range ahead of the release, while market-implied probabilities show a 43 percent chance of a rate hike in March.
U.K. GDP
The British economy grew 0.7 percent in the final three months of 2016, a little over the previous 0.6 percent estimate. Trade and consumer spending provided the lion's share of the growth, while business investment fell. The broad consensus among economists is that the prospects for the economy will be damaged by Brexit for a long time to come, with trade and openness the biggest issues. The Brexit Bill, which will allow Prime Minister Theresa May to trigger the exit process, is making its way through the upper house of Parliament, where some Lords are likely to try to amend the proposal.
Immigration crackdown
President Donald Trump's administration outlined a sweeping crackdown on undocumented immigrants yesterday, saying they would hire 15,000 more border patrol and immigration agents, and deport more people. One study suggests that ejecting these immigrants would put strain on an already tight U.S. jobs market, and cost the economy as much as $5 trillion over 10 years. 
Markets mixed
Overnight, the MSCI Asia Pacific Index rose 0.5 percent, while Japan's Topix index added 0.1 percent as shares in the region took their lead from U.S. markets hitting new record highs. In Europe, the Stoxx 600 Index was unchanged at 5:40 a.m., paring gains of as much as 0.5 percent earlier. U.S. stock futures pointed to a lower open. 
Oil production
OPEC and Russia will need to prolong their production-cut deal in order to trim the global inventory that is keeping a lid on prices, Total SA Chief Executive Officer Patrick Pouyanne said in an interview with Bloomberg TV. ABN Amro Bank NV warned that crude prices could plunge towards $30 a barrel if the cuts are not extended beyond the first half of this year. A barrel of West Texas Intermediate for April delivery was trading at $54.00 at 5:49 a.m.
What we've been reading 
This is what's caught our eye over the last 24 hours.