Decision-Day Guide: Korean Data, Scandal Point to Rates on Hold
By
All but one of 22 economists surveyed see no change at 1.25%

Central bank to weigh upbeat indicators with sliding sentiment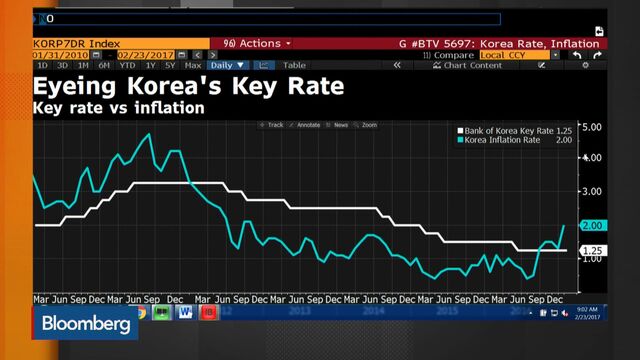 The Bank of Korea is widely expected to leave interest rates unchanged at a record low on Thursday as it awaits clarity on the fallout from a political scandal that has engulfed President Park Geun-hye as well as the heir to the Samsung Group.
Recent economic data have sent mixed signals. Exports rose for a third consecutive month in January, while consumer prices jumped at the fastest pace since 2012. But consumer sentiment has slid to near an eight-year low over the scandal, and household debt sits at a record high and keeps rising.
The BOK will keep policy unchanged until the Constitutional Court rules on Park's impeachment and the next government's policy stance becomes clear if there is an election, according to Kim Sang-hoon, a fixed-income analyst for KB Investment & Securities in Seoul.
All but one of 22 economists surveyed by Bloomberg expect the central bank to keep the seven-day repurchase rate at a record-low 1.25 percent for an eighth straight month. Natwest Markets forecast a cut to 1 percent.
The BOK will announce its rate decision at about 10 a.m., and issue statements on that and the economy soon after. Governor Lee Ju-yeol's press briefing starts from 11:20 a.m.
Here are the key points to watch:
Economic Assessment
The BOK lowered its forecasts for 2017 growth and inflation to 2.5 percent and 1.8 percent last month.
Economists are divided on its policy path this year. Of 26 surveyed by Bloomberg Feb. 3-8, 14 said they expected no change in the key policy rate this year, while 10 forecast a cut to as low as 0.75 percent. Two projected a rate increase to 1.5 percent.
Considering the split, scrutinizing Lee's comments for clues to policy direction becomes more challenging.  
If Lee highlights concerns over sluggish spending as the political scandal continues, or indicates his worries over household debt and capital outflows have eased, it would suggest the BOK is leaning more toward additional easing. 
On the other hand, an emphasis on financial stability or optimism about future growth and inflation would signal the BOK will likely stay on hold for a considerable time. 
Investors will also be keen to see if there is a dissenting voice to Thursday's decision, which could indicate a change in consensus in the near future. All decisions have been unanimous since four new members joined the board in April 2016.
Currency Concerns
South Korea's won has been Asia's strongest-performing currency against the dollar this year, amid speculation that authorities will limit intervention curbing its strength ahead of the U.S. Treasury's currency report due in April. The Treasury placed South Korea on its currency watch-list in October. The BOK and Finance Ministry recently protested against a news report that suggested the country has been manipulating its currency.
Lee hasn't spoken on the currency issue but may do so during the briefing. How he views the won's strength against the Japanese yen will also be of interest. Finance Minister Yoo Il-ho said last week that authorities are monitoring the yen-won rate and reviewing possible measures. The won strengthened to a one-year high versus the yen this month.
Government bonds have fluctuated this year, with the yield on five-year debt rising 14 basis points to 1.93 percent at the market close on Wednesday, prices from Korea Exchange show.