December Has Been The Cruelest Month for Canadian Retail Sales
By
Figures have dropped in December for five consecutive years

Black Friday a relatively recent phenomenon in Canada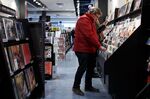 If you didn't know any better, you'd think it suddenly got too cold for Canadians to go shopping.
For five consecutive Decembers, retail sales have dropped on a monthly basis, both in terms of nominal dollar figures and volume. In December 2016, nominal sales fell 0.5 percent month-over-month on a seasonally adjusted basis, their worst showing since March.

Some of the areas of weakness included electronic and appliance stores, clothing stores, jewelry, luggage and leather goods stores, hobby, book, toys, games and music stores -- essentially, a laundry list of locations you'd hit to find things to put under the tree on Christmas Eve.
"Shopping tied to the holiday season was also anemic, a trend we've seen in recent years as marketing campaigns aim to pull forward spending earlier in the year," CIBC Capital Markets economist Nick Exarhos wrote in a report.
The non-seasonally adjusted figures, however, showed an increase of 8.1 percent for the month. While still well in positive territory, this advance is a far cry from the average monthly jump of 19.5 percent seen in Decembers from 1991 through 2000.
The relative year-end weakness raises the prospect that a trend toward completing holiday shopping in advance of December has skewed the seasonally adjusted year-end readings.
"It's had an impact, though it's difficult to say exactly what the impact is," said BMO Capital Markets senior economist Benjamin Reitzes. "We've been seeing strong Novembers and less strong Decembers, which suggest that Canadians have been pulling purchases forward."
Polar Vortex
Statistics Canada does attempt to adjust for shifting sales patterns in certain sub-sectors related to promotional events such as Black Friday and Cyber Monday. Yet the dismal Decembers have continued -- and in this instance, the areas singled out as having ended 2016 on a poor note are also the ones highlighted by the national statistics agency as most susceptible to having sales move from December to November.
Thus, either a series of one-off events like the polar vortex or coincidental cyclical softness have since unduly dampened December sales, or that the impact of shifting sales patterns is not yet fully captured in the seasonal-adjustment process.
Though Black Friday is primarily an American affair, it has spread north of the border -- just like Wal-Mart Stores Inc. In fact, the retail giant played an important role in driving the growth of the shopping spectacle in Canada. The relative strength of the nation's currency and consumers in 2009 spurred its subsidiary, as well as other firms, to offer sales in a bid to keep Canadians from cross-border shopping the Friday after the U.S. Thanksgiving holiday. Some surveys have estimated that about 50 percent of Canadian consumers shop that day.
This recent pattern of weak year-end prints suggests that it's far too soon for Canadians to panic that consumption -- the key driver of the nation's economic growth since oil prices hit the skids in mid-2014 -- has gone absent without leave.
"Given the apparent seasonality and the fact that the drop in volumes comes after a very strong run, it doesn't change the broader story that the economy is performing better than most thought just a few months ago," wrote Reitzes.
— With assistance by Erik Hertzberg
Before it's here, it's on the Bloomberg Terminal.
LEARN MORE