Citigroup Sets Up D.C. Team to Prep for Trump's Regulatory Overhaul
By
Former Comptroller of the Currency official to oversee group

Bank says Bailey will assess impact of rules, drive advocacy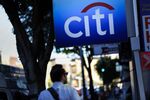 Citigroup Inc. is establishing a global regulatory affairs team in Washington as Wall Street firms prepare for the possibility of widespread changes to financial rules under the Trump administration.
The new group, which will work alongside the bank's lobbyists and focus on policy at U.S. and overseas regulators, is being run by Kevin Bailey, a former longtime official at the Office of the Comptroller of the Currency. Citigroup also promoted Julie Bell Lindsay to be his deputy.
Bailey will "assess the impact of existing and proposed regulations on our franchise, clients and customers," according to an internal memo about his hiring last month. "He will also drive Citi's advocacy efforts across critical regulatory reform areas and ensure that our efforts are coordinated and consistent."
President Donald Trump has pledged to cut what he sees as unneeded regulations and has taken particular aim at the Dodd-Frank Act, which put new strictures on the financial industry after the 2008 credit crisis. While many banks have called for some revisions, the prospect of a major overhaul has unnerved some large firms, especially those that have spent tens of millions of dollars to comply with the law.
Citigroup's move puts it in line with rivals like JPMorgan Chase & Co. and Goldman Sachs Group Inc. that have groups dedicated to monitoring and shaping financial regulations. Among the biggest issues for the industry is the Federal Reserve's stepped-up supervision for systemically important firms, including stress tests and rules governing capital levels.
Bailey, who joined Citigroup from GE Capital, worked for 25 years at the OCC, where he rose to be deputy comptroller for capital and regulatory policy. He also was a U.S. representative to the Basel Committee on Banking Supervision.
Lindsay, an eight-year Citigroup veteran, is a former Securities and Exchange Commission lawyer. She was general counsel of the bank's Capital Markets and Corporate Reporting legal team, responsible for Citigroup's public disclosures.
Before it's here, it's on the Bloomberg Terminal.
LEARN MORE