A London Real Estate Developer Just Dropped Its Land Values by 20%
By
Landlord's shares climb on new Covent Garden rental forecast

Buyer reserved or acquired 59 homes at Lillie Square Phase 2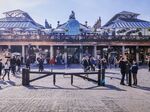 Capital & Counties Properties Plc wrote down the value of its land holdings in west London by 20 percent, less than expected by some analysts, as higher taxes and political uncertainty weaken sentiment in the U.K. capital's housing market.
The company, which plans to build 10,000 homes at Earls Court with venture partners, cut the value of its sites in the district to 1.1 billion pounds ($1.4 billion) from 1.4 billion pounds a year earlier, according to a statement on Wednesday. JPMorgan Chase & Co. had estimated a write down of 30 percent.
"The reduction in Earls Court was driven mainly by a higher assumed developer's margin for consented development land, trimming of sales values as well as some cost inflation," JPMorgan analyst Neil Green wrote in a note to clients.
CapCo's shares climbed as much as 4.2 percent to the highest since the day after the Brexit vote, and were up 2.8 percent at 8:30 a.m. in London.
Home values in London's best districts fell by an average of 6.7 percent in the 12 months through January as successive sales tax increases damped demand, broker Knight Frank LLP said in a report this month. The government brought in a 3 percent levy on second-home purchasers and landlords in April 2016, having earlier increased charges for all luxury-home buyers in December 2014.
CapCo's net asset value fell by 5.9 percent to 340 pence a share. The company intends to pay a final dividend of 1 pence a share, in line with a Bloomberg dividend forecast. The firm said it expects the open market rents at its Covent Garden holdings to reach 125 million pounds a year by December 2020 compared with 96 million pounds at the end of last year.
Buyers have now purchased or reserved 59 homes in the second phase of the Lillie Square project at Earls Court compared to 41 apartments in July, with pricing at a "modest premium" to sales in the first phase.
Before it's here, it's on the Bloomberg Terminal.
LEARN MORE