Brexit Bulletin: A Slow Slide, Not a Sharp Drop
Economists disagree on the shape of the Brexit fallout, while farmers see food rotting in the fields.
By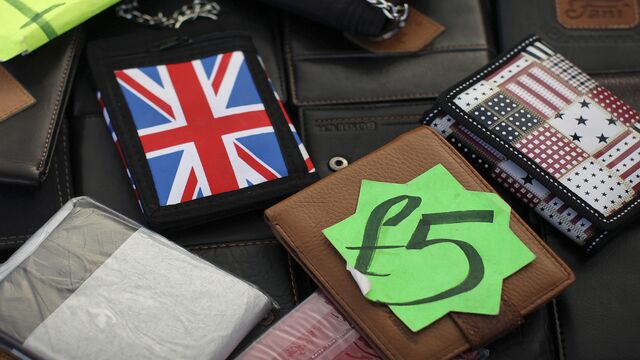 Sign up to receive the Brexit Bulletin in your inbox, and follow @Brexit on Twitter.
The impact of Brexit on the U.K.'s economy will be chronic, rather than crippling.
That's the broad consensus among economists, according to Bloomberg's Jill Ward and Scott Hamilton, as the strength of the expansion since the Brexit vote has failed to allay concerns about how the decision will filter through the economy over the coming years. 

With most of the details of the U.K.'s exit still to be thrashed out, there's also little agreement on the exact fallout, after economists' predictions about the initial impact were largely too pessimistic.
Most see a prolonged effect that will ultimately diminish output, jobs and wealth to some degree, with one of the most downbeat views coming from MIT, which forecast a loss of as much as 9.5 percent of income. Others are more optimistic. Economists for Free Trade, formerly known as the campaign group Economists for Brexit, see a boost from an "optimal" policy of scrapping import tariffs.
The latest indications of the strength of the economy came today, when the Office for National Statistics released fourth quarter GDP data showing growth of 0.7 percent, boosted by the biggest boost from net trade in almost six years.

Farmers' Food Warning
The U.K. agriculture industry will come to a standstill, and food will rot in the fields, if the government doesn't reach a deal that guarantees access to European workers, according to the head of Britain's farming union.
"Without a workforce — permanent and seasonal — it wouldn't matter what a new trade deal looks like," Meurig Raymond, president of the National Farmers Union, said at a conference in Birmingham, England on Tuesday. "The lights would go out in our biggest manufacturing sector, food will rot in the fields and Britain will lose the ability to produce and process its own food. That is not what a successful Brexit looks like."
About 22,000 workers from the EU were employed in British agriculture in 2015, around 20 percent of the industry's workforce, according to a report from the U.K.'s farming development board. The government is committed to guaranteeing rights to all EU workers in Britain, as long as the benefits are extended to British workers in the bloc, Environment Secretary Andrea Leadsom said at the conference on Tuesday.
Business concern is not restricted to farming. The uncertainty surrounding Brexit is worrying U.K. firms, which are struggling to find new workers in industries including engineering, healthcare and hospitality, according to a report by the Recruitment and Employment Confederation published Wednesday. Signs of fewer EU workers moving to Britain are also a "concern," the REC said.
Article 50 Progress
After making an unusual trip to the chamber on Monday, Prime Minister Theresa May faced few signs of outright rebellion on the second day of the House of Lords' debate on her Article 50 legislation. After about 20 hours of debate over the two sessions, the unelected lawmakers agreed without a vote late Tuesday to let the European Union (Notification of Withdrawal) Bill move on to its next stage in the scrutiny process.
The legislation will now move to its committee stage on Feb. 27, when some Lords, including members of May's own ruling Conservative Party, are likely to attempt to rewrite it. Even so, the government expects it will pass in time for the prime minister to pull the Brexit trigger before her own self-imposed deadline of the end of March.
On Wednesday Ivan Rogers, Britain's former envoy to the EU, who talked of "muddled thinking" when he quit in January, told the the Select Committee responsible for scrutinizing the government's Brexit policy it would be "insane" to leave the EU without striking a trade deal with the bloc.
Carney Comments
Mark Carney made his own appearance before lawmakers yesterday, telling them that that a smooth implementation of Brexit would be a good reason for policy makers to boost interest rates from a record low. 
Speaking in front of the Treasury Select Committee, who have previously criticized the Bank of England Governor for being too gloomy about the impact of last year's referendum, Carney said that if the U.K.'s exit proceeds "relatively smoothly to an increasingly clear end-point," that "would be consistent with a higher path of interest rates."
Such a scenario would cause the uncertainty effects of Brexit to dissipate and would be "consistent with faster growth relative to forecast, higher inflationary pressures relative to forecast, and tighter monetary policy relative to forecast," he said.
Still Carney was not totally positive, noting that "there are other scenarios which would be less optimistic" and would put policy on a different path. He also continued to maintain a robust defense against criticism the BOE has drawn for cutting rates and adding stimulus after the vote, saying "if we hadn't done that, there would have been macroeconomic consequences."
"We just have to accept we will never get any credit for it," he added.
Hefty Bill
The U.K. should expect a hefty bill when it leaves the EU, European Commission President Jean-Claude Juncker said on Tuesday, further raising tensions around one the of the biggest flashpoints of Brexit negotiations.
"The British people must know that it won't be done at reduced cost or zero cost — they must respect their commitments," Juncker said in the Belgian Federal Parliament in Brussels on Tuesday. "It will be a hefty bill."
Brexit Bullets
French presidential candidate Emmanuel Macron said in London yesterday that he wants to defend the rights of the 300,000 French people living in the U.K. Brexit talks will be long and hard, but Britain needs to keep a special relationship with Europe, he added
There is growing concern in the City of London that the loss of banking jobs to EU countries due to Brexit could threaten British and European financial stability, the Guardian reports
A tweet from Michel Barnier, the EU's chief negotiator with the U.K., on Tuesday restated the view that an agreement on the principles of an orderly exit must come before trade talks start 
Norway has asked to be included in any "arrangements" made between the EU and the U.K. on access to the internal market, according to the text of speech delivered on Monday by the nation's EU Minister, Frank Bakke Jensen
Swatch is increasing the U.K. prices of some of its brands, including Omega, Longines and Hamilton, by about 5 percent from March 1
Slovak support for an EU exit fell to 29 percent in January from 35 percent in November, according to a Focus poll for the Bratislava-based INEKO institute
And Finally...
Brexit Secretary David Davis took a dash of British humor to Riga as his whistle-stop tour of eastern Europe continued.

Davis joked he hadn't brought a sackful of cash to Latvia to lure the nation into backing Britain's interests, a reference to a Sunday Times report that said some senior cabinet ministers and government officials wanted to redirect foreign aid from Africa to eastern Europe to help get a better Brexit trade deal.
"After the reporting in London, I feel like I should be here with a big bag of money," Davis told reporters on Tuesday. "Sadly I'm not," he concluded.

Simon Kennedy is away.
For more on Brexit follow Bloomberg on Twitter, Facebook and Instagram, and see our full coverage at Bloomberg.com
Before it's here, it's on the Bloomberg Terminal.
LEARN MORE