business
Brad Grey Steps Down as CEO of Viacom's Paramount After 12 Years
By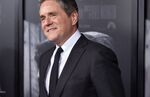 Brad Grey stepped down as chief executive officer and chairman of Paramount Pictures, handing over control to a group of executives who will run the company, a unit of Viacom Inc., until a replacement is found.
Grey will assist in a transition during the search for a successor, Viacom said in a statement. Grey had led the studio for 12 years, shepherding franchises like "Mission: Impossible" and "Star Trek," along with disasters like "Monster Trucks" and "Ben-Hur."
The management change at Paramount, which lost $445 million last fiscal year, had been telegraphed since last week, with Bloomberg and other outlets reporting that Viacom was talking to the studio chief about a change in leadership. 
A former talent manager and producer of hit TV show "The Sopranos," Grey, 59, was the longest-tenured head of a major Hollywood studio, having run Paramount since 2005. Under his leadership, Paramount topped all major studios in grosses twice, and developed strong relationships with filmmakers Michael Bay and Martin Scorsese. At this Sunday's Oscar ceremony, Paramount will be in the limelight with best picture nominees "Arrival" and "Fences."
Yet the studio's performance slipped in recent years, with annual North American grosses falling to $876 million in 2016 from almost $2 billion in 2011.
The new leadership team includes Marc Evans, president of the film group; Chief Operating Officer Andrew Gumpert; Amy Powell, president of the television group; Megan Colligan, president of distribution and marketing; and Chief Financial Officer Mark Badagliacca.
— With assistance by Lucas Shaw
Before it's here, it's on the Bloomberg Terminal.
LEARN MORE