BOE's Shafik Says Experts Key to Avoiding a Future of Ignorance
By
Specialists need to prove trustworthiness to public: Shafik

Deputy governor makes final speech before leaving for LSE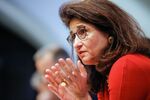 Bank of England Deputy Governor Minouche Shafik defended the role of experts in her final speech before she steps down from the role.
After a year in which the BOE came under fire for publishing analysis of the possible costs of Britain leaving the European Union, the speech hit back at critics of the central bank and economists in general. Although she didn't name any detractors, lawmaker and pro-Brexit campaigner Michael Gove said last year that Britons had "had enough of experts" and that technocrats like BOE Governor Mark Carney were to blame for multiple economic disasters.
Specialist knowledge has helped to improve life expectancy, tackle disease and reduce poverty, and that success has led to having experts that are insulated from politics, such as the Britain's independent central bank, Shafik said in a speech in Oxford, U.K., on Wednesday. Following the backlash against them since the financial crisis, experts need to prove their trustworthiness and engage the public with clearer communication, she said.
"The question is not how to manage without experts, but how to ensure that there are mechanisms in place to ensure they are trustworthy," Shafik said. "Getting this right is vital for determining whether our futures are shaped by ignorance and narrow-mindedness, or by knowledge and informed debate."
Shafik's speech also responds to criticism from within the BOE. Chief Economist Andy Haldane has described economics as insular and self-referential, and said the discipline has been "to some degree in crisis" thanks to its poor forecasting record.
University Role
The deputy governor, who described universities as "the factories for producing experts and the place in which a great deal of expert debate occurs" will leave the BOE at the end of the month to head the London School of Economics.
Central banks with autonomy from governments provide one example of the benefits of experts, Shafik said. Eighty-five percent had some degree of independence by the early 2000s, compared with less than 40 percent in the 1970s and 1980s, and "there is considerable evidence that countries that have given central banks greater independence have been more successful at maintaining low and stable inflation."
She also said the availability of, and ability to tailor, information via social media and the internet have contributed to the loss of experts' prestige.
"Who needs experts when you have Facebook, Google, Mumsnet and Twitter? Better to rely on oneself and one's network of friends over a set of experts in the pockets of corporations, political parties and banks," she said. The debate on experts "will determine the quality of politics and policy in the future, who is trusted and why."