The Glitch Bill for Airbus's Troop Carrier Just Hit $7.35 Billion
By
Jet programs set to improve but troop carrier still a headache

Planemaker predicts mid-single-digit earnings advance in 2017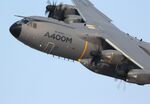 Airbus Group SE booked new charges against the delayed A400M military-transport plane and warned that cost overruns will extend into 2018 at least, overshadowing company forecasts for increased earnings this year.
Europe's biggest planemaker announced a 2.2 billion-euro ($2.3 billion) hit to cover the cost of the latest glitches to afflict the troubled troop carrier and asked government buyers to help ease the burden going forward. It has now taken 7 billion euros in charges against the A400M over the past decade, following a 2003 deal to build 180 of the turboprop planes for 20 billion euros.
Chief Executive Officer Tom Enders, who has previously described the A400M as "mission impossible," said Wednesday that the model remains a major concern given steep penalties for late deliveries and fresh issues with meeting promised performance specifications. That means Airbus has no choice but to go back to the aircraft's purchasers and plead for "mitigation," he said.
"Customers must help stop the bleeding," the CEO said on a media call, adding that capping risk and strengthening the A400M are key priorities this year.
While the model entered service five years late in 2013, it has continued to endure setbacks. One aircraft crashed on departing the factory in 2015 after three engines experienced power freezes, killing four people, while last year saw the discovery of cracks and issues with the plane's propeller gearbox that Airbus has addressed with an interim fix.
Military Capabilities
Further concerns have emerged regarding the military capabilities of Europe's biggest ongoing defense program, so that the withholding of payments will weigh on the program into 2018, the company warned.
Airbus shares traded 1.6 percent lower at 66.20 euros as of 10:48 a.m. in Paris after earlier falling as much as 2.4 percent. The stock has advanced 5.5 percent this year.
Governments have bailed out the A400M before, agreeing to provide 3.5 billion euros in aid in 2010 after Airbus sought 6.4 billion euros. Enders declined to specify what leverage he has in seeking further concessions, though European countries need the plane to rejuvenate their fleets. Germany's defense minister flew from Lithuania in a 50-year-old Transall this month after an A400M broke down before her first official trip on the model. The country has 53 orders.
Airbus's disclosure of the latest blow in the A400M saga clouded an otherwise upbeat assessment of its prospects for this year, with Enders predicting that adjusted earnings before interest and tax will show a mid-single-digit percentage gain. That's after the figure fell 3.6 percent to 3.96 billion euros in 2016, slightly above the 3.80 billion euros predicted by analysts.
'Building Blocks'
While what should be a boom in earnings from a record civil order book has been frustrated by holdups including a shortage of interior fittings for the A350 wide-body and engine glitches with a revamped version of the A320 that led Airbus to focus on lower-margin older planes, Enders said that the problem models will get back on track in 2017.
"The progress we made last year gives us confidence that we have the building blocks in place to achieve our earnings and cash-flow growth potential," he said, reiterating that Airbus expects to deliver more than 700 commercial aircraft in 2017.
The company met its 2016 goal of achieving positive free cash flow, which totaled 1.4 billion euros, recovering from a negative 4.73 billion euros after the first nine months as it delivered a mammoth 266 planes in the final quarter, or two-fifths of the annual total. This year's cash figure should be similar, before takeovers, disposals and customer financing.
Enders has shrunk Airbus's defense activities, curbing earnings, and broken down barriers between its group structure and the jetliner arm, making the division's chief Fabrice Bregier his effective No. 2 as chief operating officer for the whole company. That's also meant job losses among white-collar staff, as well as at a helicopter unit hurt by lower demand.