markets
Vive La Difference as European Stocks Rally While Bond Traders Worry About Politics
By and
Fears of French election upset appear confined to fixed-income

Stocks rally on both sides of the Atlantic, defying bond moves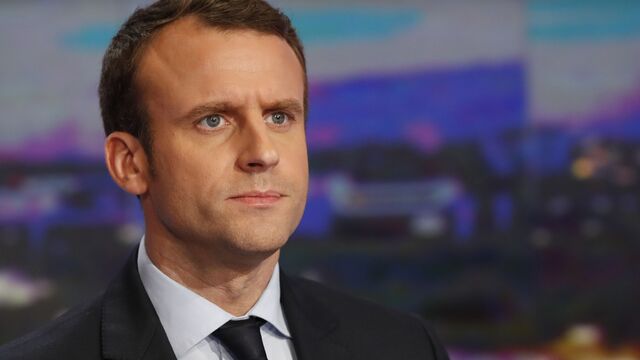 Bond and equity markets have very different takes on Europe's future. Both can't be right.
As fixed-income securities betray concerns over political risks, stocks are in the throes of a spirited rally. Investors hedging the possibility that France could elect a president who favors leaving the European Union pushed two-year bund yields to an all-time low, even while the rally in Germany's DAX Index saw it smash through analysts' year-end estimates.

Typically, bond yields should follow stocks higher on prospects of stronger growth and inflation. Instead, shorter-dated bund yields are grinding downwards as demand for Europe's safest bonds versus their French equivalents climbs to 2012 highs.
"The divergence is pretty extreme at the moment," said Martin van Vliet, an Amsterdam-based rates strategist at ING Bank NV. "If the risk-off trades in government bond markets continue, cracks will appear in the equity rally soon enough."
ING's warning echoes dynamics across the Atlantic, where stock investors banking on economic stimulus seem to be dismissing policy risks even while 10-year Treasury yields have faltered since mid-December.
The euro rebounded from a six-week low on Wednesday after French Independent candidate Emmanuel Macron sealed a pact with his centrist rival Francois Bayrou. French government 10-year yields fell eight basis points to 1.01 percent after trading as high as 1.11 percent earlier in the session.
Polls taken before the agreement was struck showed anti-EU candidate Marine Le Pen gaining on front-runner Macron in the first round of voting on April 23.
Until the winner becomes clear "we will probably see nervousness persist and undermine the euro across the board," said Kit Juckes, a global strategist at Societe Generale, in a note to clients.
(
Updates market pricing in sixth paragraph.
)
Before it's here, it's on the Bloomberg Terminal.
LEARN MORE