U.K.'s May Faces Brexit Clash After Bill Clears First Lords Test
By
Draft Article 50 Bill passes 'second reading' without vote

Unelected upper house set to consider amendments next week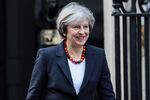 U.K. Prime Minister Theresa May won the first stage of her clash with Parliament's unelected upper chamber over her plan to trigger Brexit, but now faces a fight to pass her draft law unchanged.
After about 20 hours of debate over two days, lawmakers in the House of Lords agreed without a vote late Tuesday to let the European Union (Notification of Withdrawal) Bill move on to its next stage in the scrutiny process.
The draft legislation authorizing the premier to invoke Article 50 of the Lisbon Treaty -- starting two years of exit talks -- will now move to its "committee stage" on Feb. 27, when some in May's own ruling Conservative Party are likely to attempt to rewrite it.
"On an issue like this I just can't go against my conscience on what I believe to be right,'' Ros Altmann, a Conservative former minister, said in an interview after telling lawmakers she wants to amend the bill. "The government and the House of Commons do need to reconsider this blank check mandate to light the fuse on what will be a two-year time bomb.''
May wants to launch the U.K. on the path out of the EU by invoking Article 50 by the end of March and has ordered her lawmakers to back her. She tried to avoid Parliament having a say over the process but was forced to seek its consent when she lost a case at the Supreme Court in January.
Further Debates
The bill will move on to further debates next Monday and Wednesday, when legislators will consider amendments. These are likely to include moves to guarantee the rights of EU citizens to stay in the U.K. after Brexit and to ensure Parliament has a binding vote on the final departure deal before it's too late for it to be changed.
For Altmann, the rush to trigger the process for leaving the EU before a proper plan for Brexit has been devised is inexplicable. She wants May to give Conservatives in the Lords a "free vote'' allowing them to follow their consciences instead of following orders to vote down any amendments to the brief, 137-word bill.
While the Commons passed the draft law earlier this month without amending it, Brexit Secretary David Davis said he expects to lose votes on amendments in the upper house, where the government has no in-built majority.
It would then be for elected members of Parliament in the Commons to overturn the Lords' amendments later in March. Davis and May both insist that even if they lose votes in the House of Lords over the coming weeks, they will still be able to trigger Article 50 by March 31.
Core Purpose
"This bill is not the place to put constraints on the government's negotiating position,'' Brexit minister George Bridges said in his speech at the end of the debate on Tuesday. "This bill's core purpose, indeed its only purpose, is to start the process of leaving the European Union.''
Bridges warned that Brexit will not be reversed. There must be "no attempt to remain inside the EU and no attempt to rejoin it,'' he said. In the referendum last June, "17.4 million people picked up that stubby little pencil and they voted to leave.'' That was "the point of departure,'' he told lawmakers.
The main opposition Labour Party said it will try to amend but not to block the bill -- but it faces a rebellion from some of its own pro-European legislators.
"The British people are being sold a lie," Labour's Spencer Livermore said as he promised to vote against the bill, defying his own party leader Jeremy Corbyn's orders to support it. "When the extent of this betrayal becomes clear, when what has been promised turns out to be undeliverable, there will be a terrible reckoning -- maybe not now, maybe not in two years or even in 20, but history will judge us very harshly indeed if we now connive in that betrayal when we believe in a different course."
Before it's here, it's on the Bloomberg Terminal.
LEARN MORE