Trump Condemns Anti-Jewish Threats as 'Painful and Horrible'
By
Speaks out for first time on surge in U.S. anti-Semitism

Hillary Clinton criticized president for silence on issue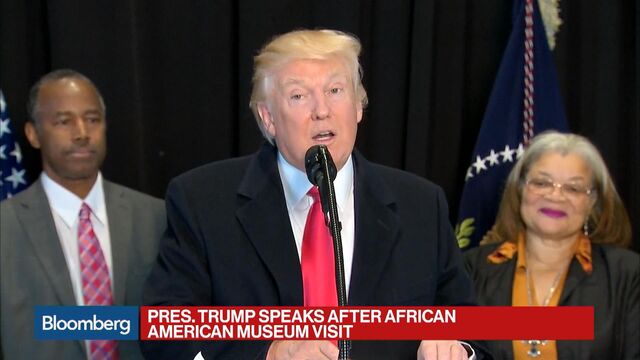 President Donald Trump condemned a rise in attacks and threats on Jewish institutions as "painful and horrible," speaking out on a surge in anti-Semitism for the first time following growing criticism of his silence.
"The anti-Semitic threats targeting our Jewish community and community centers are horrible, and are painful, and a very sad reminder of the work that still must be done to root out hate and prejudice and evil," Trump said after touring the National Museum of African American History and Culture in Washington on Tuesday.
In an interview recorded with NBC News at the museum, Trump said that "anti-Semitism is horrible and it's going to stop and it has to stop," according to a transcript the network released.
Trump has been criticized for his previous silence on the issue. About an hour before he spoke Tuesday, his election opponent, Hillary Clinton, tweeted that the attacks are "so troubling & they need to be stopped. Everyone must speak out, starting w/@POTUS."
On Monday, the Anti-Defamation League reported a wave of bomb threats against Jewish Community Centers in multiple states, which it said was the fourth series of such threats since the beginning of the year. Also on Monday 170 Jewish gravestones were found toppled at a cemetery in Missouri.
Trump's daughter, Ivanka Trump, a convert to Judaism, condemned threats on Jewish institutions in a Facebook posting on Monday.
"America is a nation built on the principles of religious tolerance and respect for all faiths," she wrote. "We must protect our houses of worship & religious centers. "
Trump was asked about the U.S. surge in anti-Semitism at two White House news conferences last week. In the first, on Wednesday with Israeli Prime Minister Benjamin Netanyahu, Trump declined to condemn the threats specifically and instead discussed his election, crime and political division.
"As far as people, Jewish people, so many friends; a daughter who happens to be here right now; a son-in-law, and three beautiful grandchildren," Trump said. "I think that you're going to see a lot different United States of America over the next three, four or eight years. I think a lot of good things are happening."
When he was asked again about rising anti-Semitism the next day by a reporter from a Jewish magazine, Trump appeared to regard the question as a personal attack.
"I am the least anti-Semitic person that you've ever seen in your entire life," he said, telling the reporter, Jake Turx, "quiet, quiet, quiet" as Turx tried to explain that he didn't mean to criticize the president.
Some Jewish groups also complained after Trump made no mention of Jewish deaths in a statement he issued for Holocaust Remembrance Day in January. The influential Jewish newspaper Forward published a Feb. 16 op-ed that said Trump's "silence about anti-Semitism has been deeply disturbing."
Steven Goldstein, executive director of the Anne Frank Center for Mutual Respect, said that Trump's statement on Tuesday was insufficient.
"The president's sudden acknowledgement of anti-Semitism is a Band-Aid on the cancer of anti-Semitism that has infected his own administration," Goldstein said in a statement. "His statement today is a pathetic asterisk of condescension after weeks in which he and his staff have committed grotesque acts and omissions reflecting anti-Semitism, yet day after day have refused to apologize and correct the record."
Before it's here, it's on the Bloomberg Terminal.
LEARN MORE