Toshiba Seeks At Least $8.8 Billion in Chip Stake Sale
By and
Deal could value chips business at as much as 2 trillion yen

Company aims to finalize sale during next fiscal year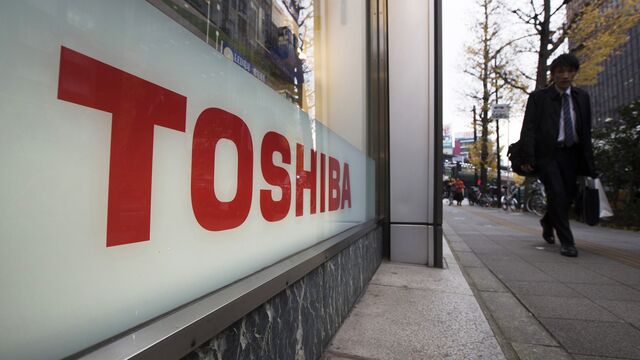 Toshiba Corp. is looking to raise at least 1 trillion yen ($8.8 billion) from the sale of its memory chip business and will aim to complete the transaction by March 2018, according to a person familiar with the matter.
The deal will likely result in Toshiba relinquishing majority control over the unit, which could be valued as high as 2 trillion yen, the person said, asking not to be identified as the matter is private. The company wants to take time negotiating the best price possible without setting a concrete deadline, although it aims to reach an agreement before the end of the next fiscal year, according to the person. A Toshiba spokesman declined to comment.
Toshiba is grappling with a $6.3 billion writedown at its nuclear division, which is suffering massive cost overruns in the construction of nuclear power plants in the U.S. and China. Last week, President Satoshi Tsunakawa said selling a majority stake in the company's highly-prized flash memory chips business may be inevitable to shore up its balance sheet. Local media including the Sankei newspaper reported the fundraising target earlier on Tuesday.
The icon of Japanese business is likely to be demoted from the first tier of the Tokyo Stock Exchange to the second section as a result of its deteriorating finances. A person familiar with the matter told Bloomberg last week the company sees no way of avoiding demotion since liabilities already exceed assets. Rather than trying to meet exchange requirements by the end of the current fiscal year in March, Toshiba will instead take its time in negotiating the best deal possible for its shareholders and employees, according to the person.  
South Korea's SK Hynix Inc. has publicly expressed interest in the Toshiba chip business. Other potential bidders include Micron Technology Inc. and Western Digital Corp., which already partners with Toshiba on manufacturing. Samsung Electronics Co. is the market leader in flash-memory chips with about a third of the $30 billion market, followed by Toshiba with about 20 percent and then Western Digital, Micron and Hynix.
In the Toshiba chip sale, foreign buyers are under consideration, but will have to abide by requirements to maintain employment and keep production in Japan, said the person. So far the Japanese government has not taken any concrete steps involving the deal, according to the person. Japan's Chief Cabinet Secretary Yoshihide Suga last week said that flash memory chips -- used in smartphones and solid-state disk drives -- are an "extremely important" technology for the nation's growth strategy.