Ontario Sees Smaller Budget Gap as Housing Boom Bulks Up Revenue
By and
Government projects 2016-17 budget deficit of $1.4 billion

'Ontario's economy continues to grow ahead of others'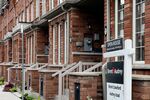 Ontario's housing boom is filtering into government coffers, swelling tax revenue and leading to a smaller-than-expected budget deficit for Canada's most populous province.
Ontario now sees a C$1.9 billion ($1.4 billion) deficit for the fiscal year ending March 31, after reducing its reserve by C$600 million, down from C$4.3 billion projected in the 2016 budget. Finance Minister Charles Sousa reiterated the province's long-standing plan to balance the budget in the 2017-18 fiscal year. That would be the first balance since before the 2008 financial crisis.
"Despite an uncertain global environment, Ontario's economy continues to grow ahead of others," Sousa said at media conference in Toronto on Tuesday. "More business succeeding, more people working, consumer confidence improving and exports rising -- have had a positive effect on Ontario's finances, ahead of plan."
Rising house prices, particularly in Toronto where they're up more than 20 percent in the past year, have boosted sales and land-transfer taxes, according to the quarterly fiscal update. Corporate and personal income taxes have also jumped as Ontario benefited from steady economic growth in the U.S., cheaper crude oil and a weaker Canadian dollar in recent months.
The economy is projected to have grown 0.7 percent in the third quarter, led by business exports, consumer spending and real estate investments. Revenue is seen at C$133.1 billion this fiscal year, or C$2.5 billion higher than forecast in the budget. Total expenses will reach C$134.6 billion, C$0.7 billion higher than in the budget.
The province has completed C$24.6 billion of long-term borrowing this year, which includes C$800 million pre-borrowed for 2017-18, a number that could yet increase as the province takes advantage of "continued demand for its debt," it said in the update. Ontario sold C$1 billion of new 10-year bonds on Feb. 6 as well as C$800 million of 2023 green bonds on Jan. 26.
Before it's here, it's on the Bloomberg Terminal.
LEARN MORE