Mexico's Peso Climbs Most in One Month on Banxico Hedge Plan
By and
First foreign-exchange hedge auction to take place March 6

Settled in local currency, hedge isn't drain on reserves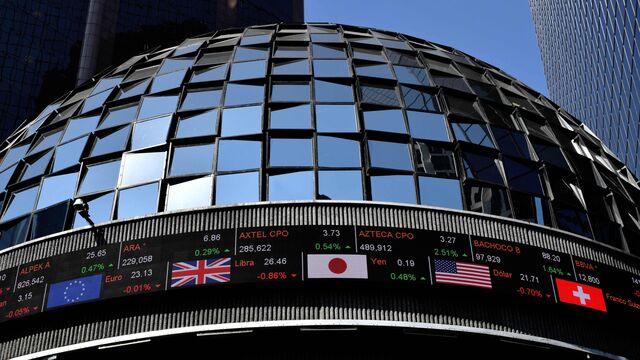 Mexico's peso rallied the most in a month as the central bank is preparing to auction as much as $20 billion in foreign-exchange hedges for the first time to bolster the currency without draining international reserves.
The peso climbed 2 percent to 19.9740 per dollar at 3:40 p.m. in New York, erasing losses, as the intervention is equivalent to selling dollars in futures markets to expand hedges being offered to companies. The currency broke above the average price of the past 100 days, signalling more gains to technical traders. The first Banxico auction will take place on March 6 for up to $1 billion, the country's currency exchange commission said on its website.

"This measure could offer some ongoing support to the peso beyond this initial reaction, depending on how the frequency and size of any such measures evolve going forward," said Erik Nelson, a currency analyst at Wells Fargo Securities in New York. "I would say that it is unlikely to change the overall trend/trajectory of the peso, but it could support further strength or lean against any renewed weakness."
Similar to non-deliverable forwards, the foreign-exchange hedge was announced as the peso took a beating following Donald Trump's victory in U.S. presidential elections. His threats to renegotiate or scrap a free trade deal with Mexico caused the currency to plunge to record lows before reversing some of its losses in recent weeks.
The hedge is the latest tool Mexico is employing to prop up its peso, which included selling dollars to banks in both January of this year and February 2016. While dollar sales have eaten into Mexico's reserves, the hedges announced Tuesday are settled in pesos and are reflected on the central bank's balance sheets. Institutions that participate may be betting on the peso's depreciation while others may just want to lock in a specific exchange rate in futures.
"I suspect this is meant to meet the demand for dollar hedging," said Win Thin, the New York-based head of emerging-markets strategy at Brown Brothers Harriman & Co. "This looks very much like the swaps program used by Brazil."
Before it's here, it's on the Bloomberg Terminal.
LEARN MORE