May Weathers Kraft Threat to U.K. Jobs, Moves on to Vauxhall
Alex Morales and Svenja O'Donnell
GM's proposed sale to PSA prompts concern about U.K. factories

Business secretary Clark, May, set to meet PSA chief Tavares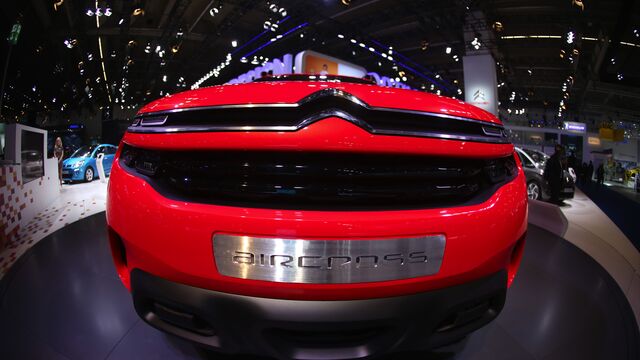 Fresh from one threat to U.K. jobs over the weekend, Prime Minister Theresa May and Business Secretary Greg Clark are turning their attention to another one.
Both plan to meet with PSA Group Chief Executive Officer Carlos Tavares later this week, raising questions about how far they're willing to go to ensure 40,000 direct and supply-chain jobs are saved if General Motors Co. sells its European brands to the French auto company. After meeting PSA board members, Clark faced questions from lawmakers in London over what kind of sweeteners he dangled to an executive known for cost cutting.
Clark promised "my personal commitment and the commitment of this government will be unbounded" to ensure the future of Vauxhall's plants at Ellesmere Port, near Liverpool, and Luton, north of London. The PSA management, he told Parliament, "have taken some pride in having part of their strategy not to close plants."
With Chancellor Angela Merkel taking a keen interest in Opel during her re-election bid, it's as politically important for May to fight for Vauxhall as she seeks to convince Parliament, voters and businesses that the U.K. economy won't suffer from the decision to leave the European Union and that she can negotiate favorable divorce terms.
Germans Win
Angela Eagle, the opposition Labour Party's former business spokeswoman, said she spoke for her constituency, which is close to Ellesmere Port, in pointing out "it is much cheaper to effectively get rid of British workers" than German ones who benefit from stronger labor laws.
Tavares met Tuesday with Opel labor representatives and said that the maker of Peugeot and Citroen cars will honor existing labor agreements.
May's office in the meantime said both sides are still trying to coordinate diaries to make time to talk, according to her spokesman, Greg Swift.
The drop in the pound since the June referendum has already made U.K. companies more attractive to foreign buyers, inviting the unwanted overture of Kraft Heinz Co. for Unilever, which employs 7,500 people in Britain. Luckily for May, Kraft Heinz bowed out before she had to become directly involved, though Clark had contact with both companies.
Incentives, Please
After the Brexit vote, a jittery Nissan Motor Co. needed to be convinced to follow through on its investment at a plant in northeast England. A letter from Clark did the trick as he promised the Japanese automaker the government would seek to maintain tariff-free access to the EU even after Britain has left the bloc.
"May has to provide the incentives for companies to stay, but that's hard to square," said Peter Hahn, a professor at London's Institute of Financial Services and a former Citigroup Inc. executive. "This is going to happen again and again. It comes down to what can May do?"
The challenge of saving jobs comes as May is effectively cutting ties to Britain's closest trading partners and lurching toward a clean break that would leave the country out of the single market and customs union. Brexit makes the U.K. operations of GM's European unit even more vulnerable than plants in Germany, Spain and Poland because it raises the specter of tariffs as the country leaves the world's biggest trading bloc.
GM's announcement last week that it's in talks to sell the Opel and Vauxhall-branded operations to Peugeot owner PSA prompted a flurry of diplomatic activity as Clark first sought talks with GM, and then with PSA and the French government, which part-owns the French manufacturer.
Clark said PSA board members assured him they "value the Vauxhall brand."
Before it's here, it's on the Bloomberg Terminal.
LEARN MORE