Material World: How to Live Forever Young
By and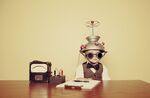 Subscribe to Material World on iTunes Podcasts
Subscribe to Material World on Pocket Casts 
Every other week, hosts Jenny Kaplan and Lindsey Rupp guide you through the consumer universe, breaking down what's going on with all the things people buy.
Immortality may remain forever the stuff of science fiction, but our ability to live long and prosper is finally within reach -- if a select group of so-called biohackers can be believed. Take Bulletproof founder Dave Asprey, so committed to the lifestyle that he plans to live to the age of 180. Or consider Jim Fadiman, who studies the benefits of microdosing on psychedelic drugs such as LSD and says small changes can have big benefits. They're just two of the experts, professionals and skeptics whom Jenny and Lindsey spoke with for this week's Material World. We also explore more mainstream efforts to live better, from diet and exercise to smartphone apps that help less-committed people quantify their wellness goals and success.


Before it's here, it's on the Bloomberg Terminal.
LEARN MORE