Macron Tells French Londoners a Fight Looms as Polls Tighten
Mark Deen and Gregory Viscusi
Centrist Bayrou to answer speculation about bid Wednesday

Le Pen would lose 56 percent to 44 percent in second round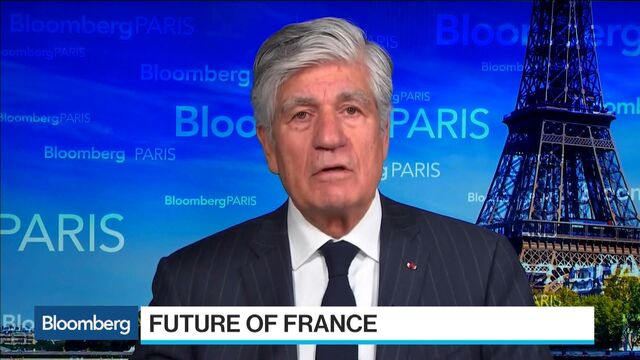 France's Emmanuel Macron told compatriots in London that he is ready for a tough fight in coming weeks after polls continued to show a tight and tumultuous presidential race.
"The period that is coming will be very hard -- I'm ready," Macron told a crowd of 3,500 in central London.

Macron may soon be facing another problem, with his centrist rival Francois Bayrou expected to declare whether he'll join the campaign at a news conference at 4:30 p.m. Wednesday.
With just over two months to go until the first round of voting, the 39-year-old independent Macron has seen support slide after one gaffe in which he qualified French colonial rule in North Africa as a "crime against humanity" and another regarding those straight people who may have felt "humiliated" by gay marriage. Macron has also come under fire for failing to provide a complete and coherent set of campaign promises -- something he promised to rectify by next week.
For a dashboard on European political risk, click here
Republican candidate Francois Fillon is back on track to qualify for the run-off in France's presidential race, according to Tuesday's Elabe poll, as a sweetened program of reforms and intensive campaigning on social media and across the country pay dividends. Fillon leapfrogged Macron, gaining three percentage points to 21 percent, while Macron shed five points to 18.5 percent, according to the survey for L'Express magazine. 
"Francois Fillon has rediscovered his power and stopped his decline," Elabe said in a commentary attached to the poll.
All the same, OpinionWay's daily poll on Wednesday showed how tight the contest is, with Macron edging back in front. He gained one point to 22 percent in the first round, with Fillon steady at 21 percent, and both trailing National Front leader Marine Le Pen who was on 26 percent.
Le Pen's Polling
Le Pen would lose to Fillon by 56 percent to 44 percent in the second round on May 7, Elabe said. OpinionWay showed her losing to Macron 59 percent to 41 percent. While that's a gain of one point for Macron from Tuesday, OpinionWay had Macron winning 66 percent to 34 percent just two weeks ago.
Even if no surveys have projected Le Pen winning the presidency, the prospect of the anti-euro Le Pen further cutting the gap has pushed the spread between French 10-year bonds and similar-maturity German bunds to its widest in more than four years. The risk premium rose 3 basis points to 82 basis points at 12:40 p.m. in Paris while the euro fell for a fourth day to $1.0502.
For an analysis of the hurdles facing a Le Pen presidency, click here
Bayrou, mayor of the southern town of Pau, won 18.6 percent of the first-round vote in 2007 and 9.1 percent in 2012 and would compete with Macron for moderate votes. Elabe's poll showed Bayrou at 6 percent, and while he'd drain support from all his rivals, it projected that Macron would lose most. Bayrou hasn't indicated his intentions to the French press. He did meet with Macron last week, news magazine Le Point reported.
Macron's trip to London also included a meeting with Prime Minister Theresa May and a fund-raising dinner. He took the opportunity of addressing a crowd containing French voters working in London's financial industry to defend his own stint as a banker, saying he doesn't a want a future in which people feel the need to come to London to be successful.
"Not a single day passes in which I'm not criticized on social media for that," he said. "I can assure you I earned my pay."
Contenders across the board are searching for traction in France's most open presidential election in living memory. The campaign has already seen former Prime Minister Alain Juppe lose the Republican primary after a year as favorite while one ex-president, Nicolas Sarkozy, dropped out and the incumbent, Francois Hollande, opted not to run.
Divided Left
Fillon, a 62-year-old former prime minister, has made gestures to both conservative and moderate voters in the past days with intense campaigning to ram home his credentials on security while dialing back his plan to cut health care spending.
Fillon and Socialist candidate Benoit Hamon Wednesday night attend the annual dinner of France's largest Jewish organization. Le Pen, 48, is back in France after a three-day visit to Lebanon. She's visiting a prison and then appearing on TF1's television news in the evening.
She'll unveil details of her foreign policy Thursday evening.
Meanwhile, Socialist candidate Benoit Hamon sought to unify France's splintered left. "My government will have all the currents of the left: socialists, communists, ecologists, radicals," he said in a town hall meeting in the central city of Blois.
OpinionWay credited Hamon with 14 percent and far-left candidate Jean-Luc Melenchon with 11 percent. Talks between the two to forge a common ticket fell apart last week.
— With assistance by Helene Fouquet
Before it's here, it's on the Bloomberg Terminal.
LEARN MORE