Kremlin Backs Limits on Cash Purchases, But Not Yet, Peskov Says
By and
Peskov says international practice shows positive results

Speed of adoption must reflect local 'realities,' Peskov says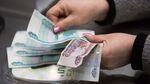 Russia is likely to adopt limits on cash transactions in the future, though how fast they will be imposed isn't yet certain, Kremlin spokesman Dmitry Peskov said Tuesday in the clearest high-level support in recent years for the idea.
His comments, though cautious, signaled that the Kremlin backs such restrictions, a highly sensitive issue in a country where cash is widely used for large purchases such as real estate and cars. As recently as last month, a top government official ruled out the curbs as "pointless."
But Peskov said the measures are widely used in other countries. "There are different points of view on this, but the international practice here has recommended itself well," he told reporters in a conference call. "There will of course be movement in this direction one way or another, but the pace depends on a lot of factors."
In particular, he said any rules would have to take into account "the realities of the country," citing as examples the still-low penetration of banking services such as debit and credit cards, which could serve as alternatives to cash.
Finance officials have long advocated limiting the use of cash for large purchases as a means to reduce tax evasion and money laundering. But the Kremlin has typically been concerned about possible political opposition in a country where confidence in the banking system is weak. 
In January, Finance Minister Anton Siluanov suggested setting a maximum level for cash purchases of certain goods. But just a few days later, First Deputy Prime Minister Igor Shuvalov said in that the government is not discussing any limits on cash transactions, calling them pointless, according to Tass.
Before it's here, it's on the Bloomberg Terminal.
LEARN MORE