Intercontinental Hotels Surges on $400 Million Special Dividend
By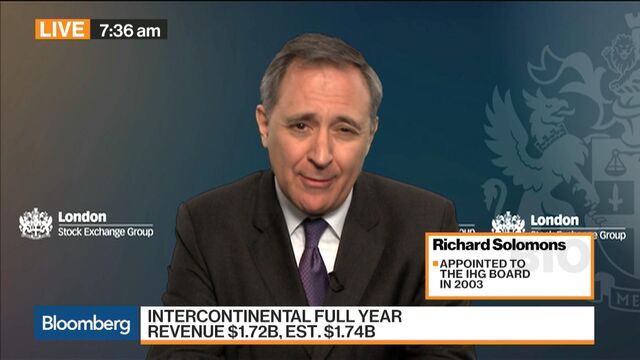 Intercontinental Hotels Group Plc rose to the highest since 2003 after the company announced it would pay a special dividend of $400 million and reported operating profit that came in at the high end of analyst estimates.
The payout, which will be made in May, comes on top of an 11 percent increase in the total dividend for 2016 after profit rose by 4 percent in 2016, the Denham, England-based company said in a statement Tuesday. The shares rose as much as 3.9 percent and were up 1.4 percent at 3,931 pence as of 9:26 a.m.
Operating profit rose to $707 million from $680 million a year earlier, at the top end of consensus, according to analysts at Bryan, Garnier & Co. Adjusted earnings per share increased to 203.3 cents from 174.9 cents.
Revenue per available room, an industry measure of occupancy and rates known as Revpar, climbed by 1.8 percent. More than 3,800 of the company's 5,032 hotels are now based in the Americas, which accounted for the second biggest jump in Revpar growth at 2.1 percent, according the the statement. In Greater China, Revpar increased by 2.2 percent, the company said.
"Despite the uncertain environment in some markets, we remain confident in the outlook for the year ahead," Chief Executive Officer Richard Solomons said in the statement.
Last year, IHG announced a $1.5 billion special dividend after selling hotels in Paris and Hong Kong in 2015.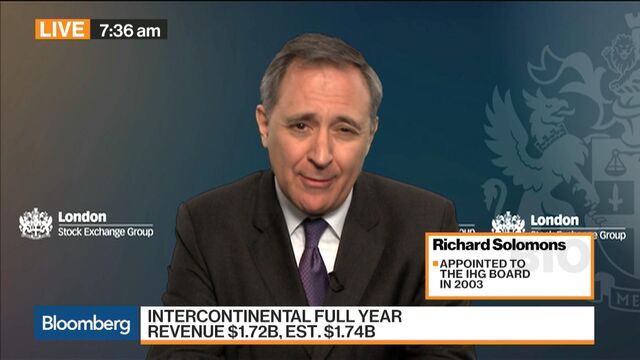 Before it's here, it's on the Bloomberg Terminal.
LEARN MORE