Fillon Retreats on French Reform as Left's Hope of Pact Fade
Gregory Viscusi and Helene Fouquet
Independent Macron visits London to court French expat voters

French risk premium rises to 4-year high as Le Pen gains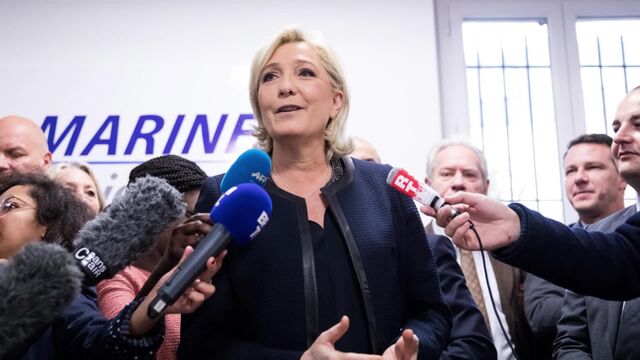 French Republican candidate Francois Fillon abandoned a key plank of his plan to cut health spending as contenders across the board searched for traction in the most open presidential election in living memory.
Fillon promised in an interview with Le Parisien that French families' medical bills will continue to be covered by the state insurance scheme if he's president, a bid to shore up support among moderate voters and party members after his campaign was hurt by financial scandal last month.

The 62-year-old former prime minister secured his party's nomination in November promising the harshest package of economic reforms to jolt the French economy into life, and a pledge to limit state health cover provoked an outcry among his opponents.
"If Fillon wants to unite his camp, he must be open to others' ideas," Republican lawmaker Dominique Bussereau, who voted against Fillon in the primary, said on France Info radio. "We've fallen from first to third, so this is no bed of roses."
For a dashboard on European political risk, click here
Health care will be the theme of the day in the campaign with Fillon, independent front-runner Emmanuel Macron and Socialist Benoit Hamon all due to unveil their proposals at the same event in Paris. Macron then travels to London to court the French ex-pat community while the anti-euro candidate Marine Le Pen is on a three-day visit to Lebanon where she held talks with Prime Minister Saad Hariri Monday, her first meeting with a national leader.
Fillon did say he planned to cut state health expenses by 20 billion euros ($21 billion) over five years by better management of hospitals, and eliminating redundant and unnecessary procedures that he didn't detail. Macron said he'd invest 5 billion euros in hospitals, with part of that being used to develop smaller local structures to discourage over-reliance on emergency rooms.
Bonds Fall
Le Pen's campaign has strengthened after a Feb. 3 knife attack in the Louvre revived memories of the terrorism that killed more than 200 people in just over two years. The nationalist has also taken a hard line on the violence that flared up across the country last week during mostly peaceful protests against police brutality.
The prospect of a populist president committed to taking France out of the single currency has pushed the spread between French 10-year bonds and similar-maturity German bunds to its widest in more than four years. The risk premium rose 1.2 points to 77.4 at 12:24 p.m. in Paris.

Meanwhile, Hamon largely conceded that his efforts to convince far-left rival Jean-Luc Melenchon to agree on a single leftist candidate had failed.
"Jean-Luc seems to want to go all the way, and I respect that," Hamon said on Europe1 radio. Talks between the two of them ended in an acrimonious exchange of barbs over the weekend.
Macron Mistake
Tuesday's daily OpinionWay poll showed little change. First-round support for Le Pen fell 1 percentage point to 26 percent, after she'd gained a point Monday. Macron and Fillon and both gained one point each to 21 percent. The poll put Hamon down 1 point at 15 percent and Melenchon down 1 at 11 percent, meaning a deal would have made Hamon favorite to make it to the second round against Le Pen on May 7.
While no surveys so far have shown Le Pen even close to a victory in May's run-off, she's narrowing the gap to her rivals. OpinionWay showed Macron would defeat Le Pen by 58 percent to 42 percent in the second round. While that's unchanged from Monday, his advantage has halved in less than two weeks. Fillon would win the second round over Le Pen by 57-43 percent.
Macron, who is running for office for the first time in his career, had been leading Fillon in the polls before his first significant misstep of the campaign last week, when he qualified French colonial rule in North Africa as a "crime." Since then he's taken the brunt of rivals' attacks, and apologized to French citizens who left Algeria when it gained independence in 1962.
Macron could soon be facing another problem. Francois Bayrou, the centrist mayor of the southern town of Pau, won 18.6 percent of the vote in the first round of the 2007 election and 9.1 percent in 2012 and has been mulling another bid. He's due to make an announcement at 4:30 p.m. Wednesday.
Before it's here, it's on the Bloomberg Terminal.
LEARN MORE