Fillon Jumps in French Poll as Macron Pays for Campaign Gaffe
By and
Republican candidate seen qualifying for May 7 run-off

Le Pen would lose 56 percent to 44 percent in second round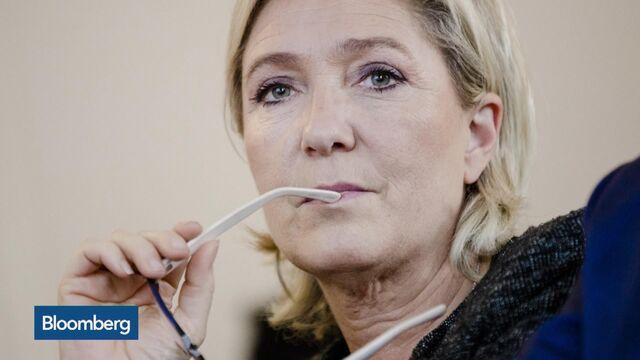 Republican candidate Francois Fillon is back on track to qualify for the run-off in France's presidential race, a poll showed on Tuesday, as a sweetened program of reforms and intensive campaigning on social media and across the country pay dividends.
Fillon leapfrogged independent front-runner Emmanuel Macron, gaining three percentage points to 21 percent, while Macron shed five points to 18.5 percent, according to the survey by Elabe for L'Express magazine. National Front leader Marine Le Pen would still get the most votes in the first ballot on April 23 but she would lose to Fillon by 56 percent to 44 percent in the second round on May 7. Le Pen was on 28 percent, up as much as two points.
Contenders across the board are searching for traction in the most open presidential election in living memory. The campaign has already seen former Prime Minister Alain Juppe lose the Republican primary after a year as favorite while one ex-president dropped out and the incumbent Francois Hollande opted not to run.
For a dashboard on European political risk, click here
While no surveys have shown Le Pen winning the presidency, Elabe showed she's narrowing the gap polling above 40 percent in the second round against both Fillon and Macron for the first time.
The prospect of the anti-euro Le Pen cutting through the melee to claim victory has pushed the spread between French 10-year bonds and similar-maturity German bunds to its widest in more than four years. The risk premium rose 2 basis points to 78 at 5:30 p.m. in Paris.
Meeting May
Fillon, a 62-year-old former prime minister, has made gestures to both conservative and moderate voters in the past days with an intense campaigning to ram home his credentials on security while dialing back his plan to cut health care spending. Macron was in London Tuesday to raise his international profile, meeting with Prime Minister Theresa May before a rally later to court expatriate and a fund-raising dinner.
For an analysis of the hurdles facing a Le Pen presidency, click here
Running for office for the first time in his career, Macron suffered his first significant misstep of the campaign last week, when he qualified French colonial rule in North Africa as a "crime against humanity." Since then he's taken the brunt of rivals' attacks and was forced to apologize to French citizens who left Algeria when it gained independence in 1962.
Macron may soon be facing another problem, with his centrist rival Francois Bayrou expected to declare whether he'll join the campaign at a press conference at 4:30 p.m. Wednesday. The mayor of the southern town of Pau won 18.6 percent of the first-round vote in 2007 and 9.1 percent in 2012 and would compete with Macron for moderate votes. While Elabe's poll showed Bayrou would drain support from all his rivals, it projected that Macron would lose most.
Le Pen, the anti-immigration candidate, stirred controversy on her trip to Lebanon on Tuesday when she refused to wear a headscarf to meet a senior Islamic cleric and pledged to restore ties with Syrian President Bashar al-Assad if elected. Yet the controversy may serve her back home where she has taken a stand against the encroachment of Islamic customs.
Le Pen's campaign has gathered strength since a Feb. 3 knife attack in the Louvre revived memories of the terrorism that has killed more than 200 people in just over two years. The nationalist has also taken a hard line on the violence that flared up across the country last week during mostly peaceful protests against police brutality.
Before it's here, it's on the Bloomberg Terminal.
LEARN MORE