Carney Forms New BOE Strategic Plan as Prior Overhaul Judged
By
Governor's organizational shakeup to begin within months

Auditors evaluating success of previous 'One Bank' overhaul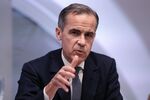 Mark Carney is about to start his second strategic overhaul of the Bank of England after his previous reorganization left little of the U.K. central bank untouched.
The BOE governor intends to roll out a new three-year plan within months, with a focus on workflow, communication and collaboration. As Carney prepares for the latest revamp, his previous program is being scrutinized by the the U.K.'s independent public-spending watchdog.
In 2014, Carney unveiled a McKinsey & Co.-assisted shakeup that fused departments, created a new management layer, and integrated a vastly expanded set of policy functions. The BOE has since reallocated staff to handle the extra burden related to Brexit and its management has warned that the additional work is making it harder to meet spending targets.
"Organizational change and new ways of working would respond" to a need for "more flexible working in a fast changing environment, with more cross-bank working and collaboration," the BOE's Court of Directors, its governing body, said in the minutes of a meeting in December published on Tuesday.
A bank spokesman said the final plans have yet to be signed off and that they would probably be unveiled in April or May. The new program will extend to 2020, one year after when Carney said he will step down as governor.
BOE Audit
With the National Audit Office currently conducting its two-month study into the effectiveness of Carney's March 2014 "One Bank" plan, BOE officials also published on Tuesday a redacted portion of the minutes from their Court meeting at the time. Several members "expressed concern" about split reporting lines that the reorganization entailed, with "the lack of clarity" seen as a risk, according to the text.
The NAO's preliminary conclusions will inform plans for the new revamp, with a full report due in June. Carney previously said he didn't object to a "value-for-money" review, though he's stressed that policy independence should not be compromised.
His first strategic overhaul was led by Chief Operating Officer Charlotte Hogg, who was this month named as the BOE's new deputy governor of markets of banking. Hogg will also retain the role of COO, giving her the widest powers of any of Carney's four deputies.
The Dec. 16 Court minutes also showed work related to the U.K.'s exit from the European Union and the BOE's expanded asset-purchase program had boosted costs and put a commitment to restrict nominal spending growth to 1.5 percent per year "at risk."
However, the budget will be met and additional savings of 20 million pounds ($25 million) would be sought, officials said.
In addition, the expansion of QE to include corporate bonds in August had "stretched the bank's systems capacity," Court said. It added that there had only been a low number of incidents and "no significant operational risk."