Churkin, Russia's UN Ambassador, Dies Unexpectedly at 64
By and
He served during Russia's conflicts with Ukraine, Georgia

He had been UN envoy since 2006, clashed often with U.S.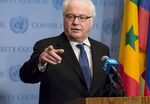 Vitaly Churkin, the Russian ambassador to the United Nations who clashed frequently with the Obama administration, has died. He was 64.
He died unexpectedly in New York on Monday while working, the Russian Foreign Ministry said. It was the day before his 65th birthday. Russian President Vladimir Putin expressed condolences to Churkin's family, according to a statement on the Kremlin website.
Churkin had served as Russia's envoy to the UN since 2006 and defended Russia's foreign policy as his country went to war with Georgia, annexed the Crimean peninsula and supported separatists in Ukraine. A career diplomat with a doctorate in history, Churkin was previously an ambassador to Canada and Belgium, and worked as a liaison to the North Atlantic Treaty Organization.
His passing comes at a delicate time for U.S.-Russia relations. U.S. President Donald Trump has expressed a desire to improve ties with Russia, though he has faced accusations from Democrats and some Republicans for being soft on Putin. Trump's ambassador to the UN, Nikki Haley, expressed condolences in a statement.
"In my short time at the United Nations, Ambassador Vitaly Churkin showed himself to be a gracious colleague," according to Haley, who was confirmed by the Senate last month. "We did not always see things the same way, but he unquestionably advocated his country's positions with great skill."
Relationship Soured
Under former President Barack Obama's administration, the Russia-U.S. relationship soured to the point that the UN Security Council's work was largely paralyzed. Russia vetoed 15 resolutions during Churkin's tenure -- six on Syria alone -- while the U.S. used its veto three times.
Samantha Power, Obama's representative to the organization, feuded with Churkin over the deteriorating humanitarian situation in Syria. At a Security Council hearing in December, she charged Russia with complicity in "massacring" civilians by backing Syrian President Bashar al-Assad's regime and pro-Assad militias. Churkin, in turn, said the U.S. and U.K. were to blame for the rise of the Islamic State because of their invasion of Iraq.
Power reacted to the news of Churkin's death on Twitter, writing that she was devastated, while praising him as a "diplomatic maestro."