Swedish PM 'Surprised' By President Trump's Comments
By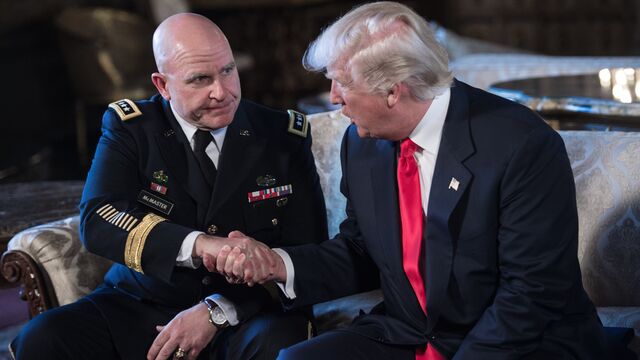 Swedish Prime Minister Stefan Lofven urged people to stick to facts and verify information before it's spread, dismissing portrayals of the Nordic nation as being in a state of chaos and overrun by crime after an influx of refugees.
Asked to comment on remarks made by Donald Trump at a rally in Florida, in which the U.S. president appeared to suggest that a major incident had occurred in Sweden, Lofven on Monday told reporters: "I was, like many others, surprised by the comments made about Sweden this weekend.

"We must all take responsibility for using facts correctly and verifying any information that we spread," Lofven said at a press conference in Stockholm with the Governor General of Canada, David Johnston.
The premier went on to defend his country's track record in such fields as human development, equality and competitiveness while acknowledging that Sweden, like other countries, faced "many challenges and opportunities."
Trump's comment -- "look what's happening last night in Sweden" -- had Swedes baffled, as no major incident had occurred. The president later published a message on Twitter saying he had been referring to a broadcast on Fox Television about refugees in the Scandinavian country.
On Monday he again tweeted: "Give the public a break - The FAKE NEWS media is trying to say that large scale immigration in Sweden is working out just beautifully. NOT!"
Sweden has emerged as a prime target for right-wing news outlets and propagandists seeking to create a link between mass immigration and what they characterize as the chaos that hits societies that welcome refugees. The country of 10 million people received about a quarter of a million asylum seekers as refugees flooded into Europe over the past three years and was at the end of 2015 forced to erect border controls and restrict inflows.
The influx in refugees has coincided with the rise of the anti-immigration party, the Sweden Democrats, which some opinion polls show could emerge as the biggest political force after elections in 2018.
While the huge inflows strained the system, Sweden has arguably tackled the challenges well. The extra spending on refugees helped stoke an economic boom and the country has managed to turn deficits into surpluses.
Read more on how Sweden handled the refugee crisis
Claims of a rampant rise in crime and so-called "no-go zones" are also hard to substantiate. Sweden doesn't break down who commits crime by ethnicity. To be sure, like other parts of Europe, the country has seen unrest in the suburbs of its largest cities, areas with high levels of immigrants and low rates of employment. Just last night, police were attacked by rock throwing youths in Stockholm's Rinkeby suburb.  
Statistics show that reported violent crime rose 3 percent, adjusted for population growth, last year, but overall such offenses are down 5 percent since the start of this decade. Reported sexual offenses rose 8.2 percent in 2016, population adjusted, but were down 4.6 percent from the 2014 level, according to preliminary data from the Swedish National Council for Crime Prevention.
Overall in Sweden, 81 percent of people feel "quite or very safe" when out alone late in the evening in their own neighborhood, the council found in its Swedish Crime Survey 2016. The share of people who don't feel safe increased to 19 percent from 15 percent in 2015.
Finance Minister Magdalena Andersson on Tuesday also said she was "surprised" by Trump's comments on Sweden.
"Just like many other Swedes, I don't recognize his description of Sweden at all," she said while attending a finance ministers meeting in Brussels. "It's important that we present a broader and more balanced picture of Sweden," she said, adding that the country has good growth, falling unemployment and the highest employment rate in the EU.