RBS Rises to One-Year High After Bank Scraps Plans to Sell Unit
By
Analysts say U.K. lender could have reached a 'turning point'

Keeping Williams & Glyn may help clear path for RBS dividends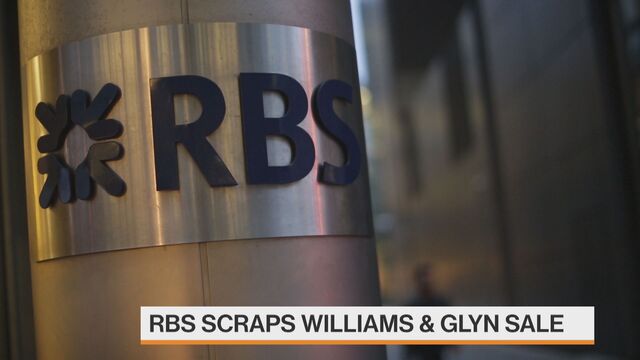 Royal Bank of Scotland Group Plc rose to a 12-month high in London trading after scrapping plans to sell its Williams & Glyn banking unit, removing one of the lender's biggest obstacles to paying dividends and cutting the U.K. government's stake.
Britain's largest taxpayer-owned bank may have reached a "turning point" after running up expenses of about 1.8 billion pounds ($2.2 billion) trying to dispose of the 314-branch lender in order to meet European Union antitrust rules, analysts at Deutsche Bank AG led by David Lock wrote in a note to clients on Monday. The shares gained as much as 6.5 percent and were up 15.4 pence to 257.8 pence as of 11:00 a.m., the biggest advance among major U.K. banks.
Investors are optimistic that RBS is closer to resolving some of the biggest issues that have weighed on the stock, even if it means a greater loss in 2016 results. The bank will take a 750 million-pound provision as part of a new plan to address its EU mandate to sell Williams & Glyn, which will include paying rivals to take on its customers. The fourth quarter will also include a 3.1 billion-pound charge tied to a U.S. probe into sales of mortgage securities.
"Addressing these non-operating issues in 2017 should provide a clearer path towards the normalization of the business, and also brings forward our expectations of dividend resumption" to the end of 2017, Rohith Chandra-Rajan, an analyst at Barclays Plc, wrote in a note to investors. The bank was raised to equal weight from underweight by Barclays.
Post Loss
RBS is now expected to post a loss of about 6.5 billion pounds for 2016, according to the Deutsche Bank analysts. That would be the bank's ninth straight annual deficit and bring total losses since the financial crisis to more than 58 billion pounds. Chief Executive Officer Ross McEwan told the Financial Times in an interview he expects the bank to return to statutory profit in 2018 after more than a decade of losses.
RBS has struggled to spin off Williams & Glyn, which it agreed to do in 2009 after receiving 45.5 billion pounds of state aid during the financial crisis. The European Commission is now considering allowing the Edinburgh-based lender to keep the unit and instead set aside money to help rival lenders lure its clients and provide "dowries" to smaller challenger banks in order to enhance competition in business banking, RBS said on Friday.
McEwan has previously described selling Williams & Glyn and settling the U.S. Department of Justice probe into the bank's sale of mortgage bonds as two key roadblocks to paying dividends. Acceptance of the new proposals by the EU could help accelerate the return of capital to investors, according to analysts at UBS Group AG led by Jason Napier.
Foregone Conclusion?
While keeping Williams & Glyn comes at a cost, the division includes profitable lending to small-and medium-sized businesses that could bolster earnings for RBS amid dwindling income from mortgage loans because of low interest rates. RBS could see a 12 percent uplift to earnings per share in 2019, analysts at JPMorgan Chase & Co. including Raul Sinha wrote in a note to clients with an underweight rating on the shares.
Some analysts were skeptical that paying rivals to take RBS's clients will result in increased competition. "We wouldn't expect that many SMEs will jump at the opportunity to be offloaded to a challenger bank, dowry or no dowry," Sandy Chen, an analyst at Cenkos Securities Plc wrote in a note to clients.
The plan put forward by the U.K. Treasury on behalf of RBS comes just as Prime Minister Theresa May prepares to trigger Article 50 to begin Britain's exit talks with the 28-nation trading bloc.
"We would caution that the EC Commission still needs to agree" to the U.K. Treasury proposals and "the devil will be in the detail" of the terms of the deal, Andrew Coombs, an analyst at Citigroup Inc., wrote in a note to clients.