business
Pop-Ups Come to Banking as Swedbank Steals a Page From Eateries
By
Sweden's largest mortgage lenders mulls temporary branches

Negative rates push banks to explore new profit opportunities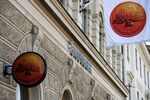 Sweden's biggest mortgage lender plans to open pop-up banks across the country, reversing half a decade of shuttering branches.
Swedbank AB, which has cut its network by almost two-thirds since 2011, envisions portable banks setting up virtually anywhere, from university campuses to real estate brokers' offices to corporate clients' headquarters. The Stockholm-based lender is working on security and infrastructure issues now, and when that's finished, over the next couple of years, pop-ups will, well, pop up.
"We're looking into how to do it, and the day we introduce it, you will see the map is going to be totally different," Christer Tragardh, head of Swedish operations, said of the bank's network.
Branches have become all but passé in Scandinavia. Businesses and households have opted for apps and on-line services at a speed that has earned the region accolades for its embrace of the digital age. Cash has fallen into such disuse that central banks are now wondering whether it has a future.
Even Svenska Handelsbanken AB, whose branch-based business model puts it at the top of customer satisfaction surveys, has trimmed locations. Swedbank cut its brick-and-mortar sites to about 248 branches from almost 600 in 2011. Now, the bank's reconsidering and taking a cue from the restaurant and retail industries.
"We have a lot of corporate customers and they want to go to the bank,," Tragardh said. "They need to have someone to discuss with. We have private persons with more needs, and they also need to visit the bank every now and then."
Customer Satisfaction
Nordic banks are seeking new ways to grapple with persistent low loan demand and negative rates. Most have already expanded into wealth management. Mortgage lending, a bright spot, is likely to slow as rising household debt, especially in Sweden, means regulators will probably impose more curbs.
So far, banks have been more than able to compensate, with returns on equity among Europe's highest thanks to cost cutting and lower loan losses. But pressure is mounting, with the emphasis now being placed on providing better services.
"Demand for credit from non-financial corporates is weak in Sweden, so if we want to have new customers we have to take them from someone else," Tragardh said. And with interest rates so low, it's hard to make pricing a competitive parameter, he said.
Swedbank is working with its real estate agents on setting up pop-ups in their offices. The bank has already experimented with buses and libraries in its Baltic operations and has also set up a pension pop-up in its headquarters to target employees.
"Some of the obstacles today include security and infrastructure," Tragardh said. "When we fix that, this will happen and it will happen fast."
Before it's here, it's on the Bloomberg Terminal.
LEARN MORE