Moreno Leads in Ecuador But Is Unlikely to Avoid a Runoff Vote
By
Preliminary results show Moreno with 39.1%, Lasso with 28.3%

Runoff on April 2nd could favor conservative candidate Lasso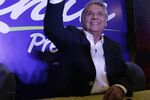 Ecuador's ruling party candidate Lenin Moreno took a 10-point lead in the country's presidential election over conservative candidate Guillermo Lasso but remains short of the threshold needed to avoid a second round runoff in April, according to preliminary results.
With 87.7 percent of the valid votes counted, Moreno had 39.1 percent of the ballots, while Lasso received 28.3 percent, the National Electoral Council said. The front-runner needs at least 40 percent of the vote with a 10-point margin to win in the first round. An April 2 runoff could favor Lasso as opponents of the government rally behind him. Eurasia Group said earlier this month the opposition will have a 60 percent probability of winning in a second round.
Ecuadoreans are choosing a successor to President Rafael Correa, who for the first time in more than a decade wasn't on the ballot. After voting in Quito, Correa declared that Moreno would win without a runoff. Highly popular after spending more than $300 billion on social programs, infrastructure and expanding government's role in South America's seventh-biggest economy, he had to ramp up government debt to maintain spending after the price of oil, the OPEC member's top export, plunged after 2014.
"We have won the elections," Moreno said at a rally outside Alianza Pais headquarters in Quito in reaction to an unofficial exit poll by Opinion Publica Ecuador, which showed 42.9 percent for Moreno and 27.7 percent for Lasso.
Lasso meanwhile said "there will be a second round and we have no doubt that on April 2 we'll beat Correism," in reference to Correa's political project. Lasso supporters gathered outside the headquarters of the electoral council during the evening and into early Monday to demand that a runoff be confirmed.
Campaign Proposals

Moreno, Correa's chosen successor and a former vice president, has pledged to expand benefits to the poor, including tripling a monthly cash transfer to low-income families to $150, free housing, higher pensions for seniors, and 40 new technical universities, despite an economic recession. Lasso meanwhile, has proposed cutting taxes and courting foreign direct investment to create jobs while also scrapping a controversial media law and recovering judicial independence.
There were six other candidates on the ballot. Voters also chose the 137 members of Ecuador's National Assembly, five members of the Andean Parliament, and decided whether to bar elected and professional public officials from owning assets in tax havens. Cynthia Viteri, who has said she would support Lasso in a second round, was in third place with 16.4 percent of votes. The abstention rate was about 18 percent.
"We think the opposition could have better chances to win in a runoff, without this being a foregone conclusion," Credit Suisse Group AG analyst Juan Lorenzo Maldonado wrote in a report. "We expect a positive reaction of Ecuador's asset prices if a runoff is confirmed."
Bond Returns
The U.S. bond market is closed Monday due to a public holiday while Ecuador's government bonds were little changed in European trading. In the past six months, Ecuador's dollar debt has returned 13.5 percent compared with an average loss of 1.1 percent for developing economies, according to JPMorgan Chase & Co. data.
The International Monetary Fund expects the economy to contract for a second consecutive year in 2017 before rebounding next year.
Voters from some remote Amazon jungle and Andean villages can take hours to reach voting precincts and return home. Proof of voting is required to carry out numerous bureaucratic procedures like car registration, opening a bank account, or even renting a bicycle. A ban on the sale and consumption of alcohol began Friday noon and runs through noon on Monday.
Several incidents were reported during the elections. Police Colonel Carlos Zarate, deputy director of the special operations unit, in a video distributed by newspaper La Hora, reported that previously marked ballots had been discovered in the provinces of Carchi, Cotopaxi, Manabi, and Tungurahua, without specifying how many.
— With assistance by Charlie Devereux
Before it's here, it's on the Bloomberg Terminal.
LEARN MORE