Lloyd's of London Appoints Bruce Carnegie-Brown as Chairman
By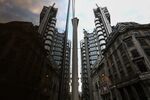 Lloyd's of London named Bruce Carnegie-Brown to succeed John Nelson as chairman of the insurance market founded in a coffee house in 1688.
Carnegie-Brown, who is also chairman of Moneysupermarket.com Group Plc and vice chairman of Banco Santander SA, will take up the position in June, subject to regulatory approval, Lloyd's of London said in a statement on Monday.

"I am looking forward to working with Bruce," Chief Executive Officer Inga Beale said in the statement. His experience across insurance and banking "will offer Lloyd's a unique perspective on how we conduct our business and succeed in today's marketplace."
Carnegie-Brown, who has more than 35 years of experience in financial services including at Marsh Europe, Aon UK Ltd and Catlin Group Plc, takes up the post at a time when Lloyd's of London is deciding where it wants to open a European headquarters after the government indicated Britain won't remain part of the EU's single market.
Frankfurt, Luxembourg and Dublin are under consideration, Beale said in an interview on Feb. 14. About 11 percent of the market's volume comes from non-U.K. European Union countries, but some of that will still be able to be underwritten from London, Beale.
Outgoing chairman Nelson, 69, has been at the helm of the insurance market since 2011, when he replaced Peter Levene. Nelson worked at Kleinwort Benson for 15 years and Lazard Ltd. for 13 years and worked as chairman of Credit Suisse First Boston's European from 1999 until 2002.
"Quite simply, this is an excellent appointment," Nelson in a statement Monday. "Bruce has an extensive career in financial services, with major global firms particularly in insurance where he brings a deep knowledge and understanding of the broker and underwriting market."
— With assistance by Sarah Jones
Before it's here, it's on the Bloomberg Terminal.
LEARN MORE